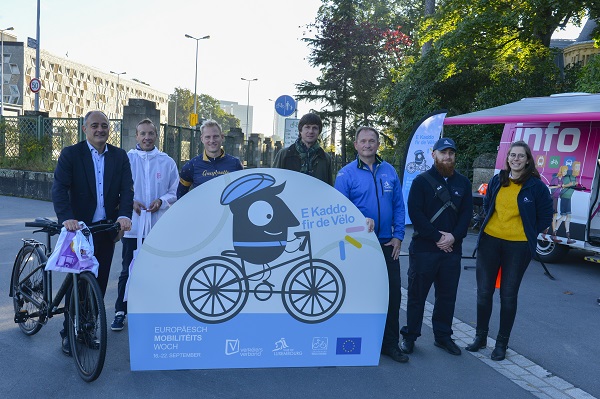 L-R: Patrick Goldschmidt, VdL; Stéphane Winandy, Public Transport Administration; Matthias Geistor, ProVelo.lu ASBL; Gilles Dostert, Ministry of Mobility & Public Works; n/a; n/a; Martine Kemp, VdL; Credit: VdL / Charles Soubry
Last Thursday, the "E Kaddo fir de Vëlo" (a present for the bicycle) initiative marked the official launch of European Mobility Week 2021 in Luxembourg.
On this occasion, Luxembourg's Ministry of Mobility and Public Works, the City of Luxembourg (Ville de Luxembourg - VdL), the Public Transport Administration and ProVelo.lu distributed around 1,000 bags containing gadgets and information materials to all cyclists who passed near the Roundabout Schuman, as well as those who crossed the Pont Adolphe footbridge and the Viaduct bridge and those who took the lift connecting Luxembourg-Pfaffenthal to the Upper Town.
Regarding the evolution of the use of cycling in urban areas from 2019 to 2020, there was a drop of 14% on weekdays (Monday-Friday) but an increase of 43% on weekends (Saturday and Sunday). This situation is explained by the context of the COVID-19 pandemic, in particular lockdowns and the intensive use of teleworking in many activity sectors as well as growing interest in cycling for leisure travel. Between the first half of 2020 and the first half of 2021, a general decrease of 5.78% is also to be interpreted in the context of the pandemic.
On the occasion of the "E Kaddo fir de Vëlo" initiative, Luxembourg City alderman Patrick Goldschmidt also presented the new edition of the "Cycling routes" leaflet. The publication includes a map with the approximately 170km of cycle routes and summarises the service offers for cyclists, the main traffic rules and safety advice as well as specific signs for cyclist traffic.
The leaflet is available on the website of the City of Luxembourg (velo.vdl.lu) as well as at the Town Hall, the Bierger-Center, the reception of the "Rocade" building in Luxembourg-Bonnevoie and the information points "Infobus" (Place d'Armes) and "Info Chantiers" (13 Rue Notre-Dame), as well as in the city's cultural institutions (Grand Théâtre, Lëtzebuerg City Museum, Cité Bibliothèque, Conservatoire).
European Mobility Week 2021 is taking place from 16 to 22 September under the theme "Safe and Healthy with Sustainable Mobility".