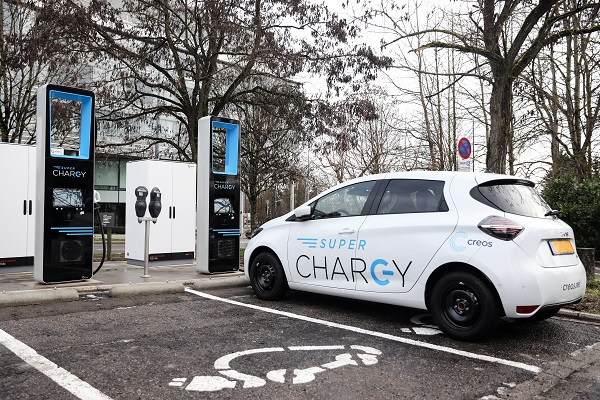 Credit: MEA / Sophie Margue
On Wednesday 20 January 2021, Luxembourg's Ministry of Energy and Spatial Planning and Ministry of Mobility and Public Works inaugurated the first of 88 ultra-fast electric vehicle charging stations, known as "SuperChargy".
Present at the inauguration were Luxembourg's Deputy Prime Minister and Minister for Mobility and Public Works, François Bausch, the Minister of Energy, Claude Turmes, and the Director General of Creos Luxembourg, Marc Reiffers. Ensured by the distribution network operator, Creos, 88 ultra-fast charging stations (160-320 kW) intended for 100% electric cars are being deployed gradually until 2023.
Distributed throughout the national territory, nineteen ultra-fast charging stations will be installed on the service areas of the motorways and on the other main axes of the country. The first two SuperChargy terminals have been operational since Wednesday 20 January 2021 at the University of Luxembourg Kirchberg campus car park.
Equipped with the SuperChargy logo intended to identify the terminals of the national system, these ultra-fast charging stations can be used with the same means of identification as the "Chargy" terminals and will, from the second quarter of 2021, be equipped with a payment system that accepts debit and credit cards. All Chargy and SuperChargy stations will continue to exclusively distribute electricity produced from 100% renewable energies.
Designed to complement the network of existing public terminals ("Chargy" and "Chargy-OK") in Luxembourg, the SuperChargy charging infrastructure is based on a common central computer system allowing data communication between the charging stations and service providers. The infrastructure has therefore been planned and built in such a way that all charging service providers can offer their product on all terminals. This approach allows users to charge their electric cars with a single charge card at all compatible charging stations.
SuperChargy stations are distinguished from other charging stations by their own visual identity, which follows on from the initial design of Chargy charging stations. In addition to their site lighting function, the specially designed streetlights include a WiFi router which will be made available free of charge to SuperChargy customers.
During yesterday's presentation, Mobility Minister François Bausch stated: "Since the inauguration of the first Chargy terminal four years ago, not only have car registrations for electric vehicles in Luxembourg increased sharply, but 100% electric cars have also made significant progress in terms of range and maximum charging speed. Thus, these cars have an increasing autonomy of a few hundred kilometres and can be recharged using ultra-fast charging stations in a few minutes. In order to promote long-distance travel with 100% electric cars, it was therefore essential to provide, on a national scale, such an ultra-fast charging infrastructure, endowed with the same ease of use as the Chargy terminals".
Energy Minister Claude Turmes specified that "the objective is to facilitate the transition to electromobility as much as possible". He added that "the new ultra-fast SuperChargy charging stations represent another important link in the implementing our national strategy. This is intended to improve the infrastructure necessary for the deployment of electric mobility, according to the principle: 'practical, clean and close to you'".
The Managing Director of Creos Luxembourg, Marc Reiffers, added that Creos, together with the other distribution network operators, was responsible in 2016 for setting up the Chargy infrastructure, operating the central computerised system and if possible, integrating all third-party terminals. To date, the Chargy system includes some 600 Chargy and Chargy-OK terminals, over 460 of which are open to the public.
At the beginning of March 2020, Creos was also tasked with implementing around 88 ultra-fast charging stations by 2023. Marc Reiffers highlighted that the team responsible for this project succeeded in installing the first two terminals very quickly in order to be able to carry out tests for the general public in the first quarter of 2021. During this preliminary test phase with a limited load capacity, the conditions and prices applied will be identical to those of the Chargy terminals.