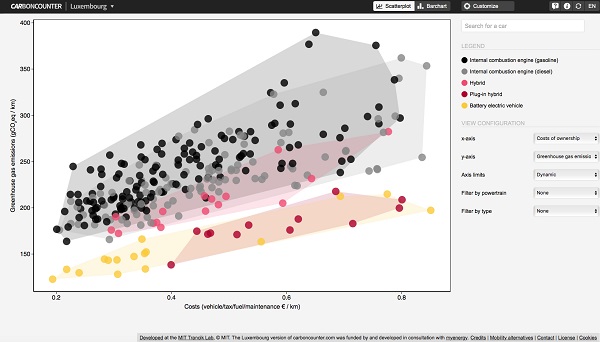 Carbon Counter landing page; Credit: myenergy
As part of European Mobility Week, placed under the theme "Zero emission mobility for all", myenergy has launched a new online tool in Luxembourg: www.carboncounter.lu.
carboncounter.lu is an online tool, developed by the Massachusetts Institute of Technology (MIT) Trancik Lab in collaboration with myenergy, which allows users to compare vehicles on the Luxembourg market in terms of CO2 emissions and costs.
This free comparison tool, developed by MIT for the American market and available for Luxembourg through the collaboration of myenergy, provides information on the emissions and energy efficiency of more than 1,000 vehicles currently available on the Luxembourg market. It operates on a neutral database, collected in particular from the SNCA (Société Nationale de Circulation Automobile), and according to a recognised scientific methodology, which has already proven effective in the US.
The Luxembourgish version of the initial tool, and the first foreign version outside the American market, carboncounter.lu aims to allow the user to form his / her own opinion on the vehicle he / she intends to buy. In addition to comparing the CO2 emissions of a wide range of vehicles, the tool also analyses the vehicle's entire economic cycle, taking into account maintenance costs, purchase price, fuel expenses and taxes, among others. The user can configure his / her search by activating various filters, including those relating to the choice of engine, the type of vehicle or its consumption.
Regarding its hopes for this site, myenergy confirmed its desire to further fuel the discussion around cars and contribute to national objectives in terms of reducing greenhouse gas emissions (-55% by 2030), set within the Integrated National Energy and Climate Plan (PNEC), by allowing users of the tool to orient themselves on the market and to make an informed choice.