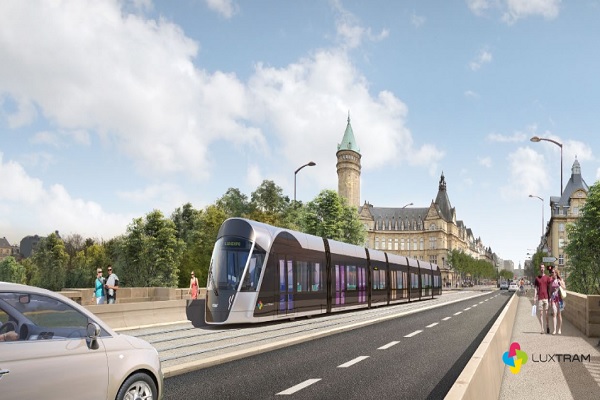 Credit: VdL
The next phase of the Luxtram project will lead to various changes to public transport in Luxembourg City from Sunday 3 November 2019 onwards.
These works will particularly affect public transport in the Luxembourg-Gare district, where the Gare-Rocade bus station will be developed and there will be three new platforms for regional buses, allowing a quick connection to the city centre and Kirchberg. In addition, the AVL bus station is to be redesigned and AVL lines will be adapted.
Similarly, two-way traffic will be allowed on Avenue de la Gare and the Viaduc to allow more efficient bus traffic between the Gare and Ville Haute districts, and redesigned roads and bus stops around Place Wallis should provide a better link between the Bonnevoie and Gare districts. Moreover, a bus stop will be set up in both directions at Boulevard Roosevelt (Ville Haute). In order to guarantee the smooth passage of buses on Avenue de la Gare, the Al Avenue stop will only be served by lines 13, 14, 19 and 23. This implies that some lines will not have an intermediate stop between the Gare or Place Wallis Square and the new Roosevelt stop.
As part of these developments, the following adaptations to public transport are planned from this Sunday.
RGTR Bus
The relocation of the following RGTR bus lines: RGTR Eurobus lines (144, 172, 192, 194, 195) will be moved to the new platforms at the Rocade de Bonnevoie. Access from the station forecourt and train platforms is provided via the bridge to Bonnevoie; buses to the city centre, Kirchberg and beyond will stop at the Gare-Rocade Quai 3; buses to Howald, Hesperange and beyond will stop at Gare-Rocade 4; lines 197 and 300 will depart from the new Gare-Rocade 6 platform, arriving at Gare-Rocade 3; the lines 120 and 125 will have their departure and arrival at the Gare Centrale 9/12 platform; the 968 school line will depart from the new Gare-Rocade 3 platform.
Autobus de la Ville de Luxembourg (AVL)
Platform transfers planned for some AVL lines at the Gare Centrale: lines 9 (Neudorf-Cents, Waassertuerm), 13 (Belair, Centre hospitalier) and 14 (Cents, Waassertuerm) transferred to platfrom 3; lines 10 (Steinsel, Michel Rodange Plaz) and 11 (Walferdange-Steinsel, Michel Rodange Plaz) transferred to platform 5; lines 19 (Limpertsberg, Neumans Park), 23 (Beggen, Henri Dunant), 31 (Strassen, Oricher-Hoehl) and 90 (Ste Sophie) transferred to platform 6.
In addition, the following AVL lines will be transferred to the new temporary platform 9/12, located at former platform 1: lines 1 (Kirchberg, Luxexpo Entrée Sud), 2/4 (Limpertsberg, Lycée M. Lucius), 7 (Kirchberg, Poutty Stein), 16 (Aéroport), 18 (Kirchberg, Luxexpo Entrée Sud), 21 (Rollingergrund-Eich, Centre culturel), 22 (Strassen, Primeurs), 27 (Bonnevoie, L.T. de Bonnevoie), 70 (Hamm, rue de Bitbourg) and CN1 (Cents, Waassertuerm).
Platform 102 will be temporarily moved to platform 103 (between Rue Joseph Junck and Rue d'Épernay). This move affects: AVL lines 1/125 (Hollerich, P+R Bouillon), 2 (Gasperich, Boy Konen), 4 (Cessange-Leudelange, Gemeng), 7 (Bonnevoie, J.F. Gangler), 18 (Kockelscheuer, Patinoire), 23 (Gasperich-Bonnevoie, L.T. de Bonnevoie), 27 (Bertrange, Belle Étoile), 70 (Kockelscheuer, Patinoire), CN1 (Hollerich, P+R) and CN3 (Bonnevoie-Hamm-Pulvermühl).
Other changes to the AVL network as of Sunday include a new route on the Gare-Centre-Ville axis (via Avenue de la Gare and the Viaduc Bridge; two-way traffic). With the exception of line 19 (Centre-plateau Bourbon-Gare Centrale), AVL buses will no longer use the Adolphe Bridge. This adaptation and the implementation of the new Roosevelt stop on Boulevard Roosevelt will result in the removal of stops located on Avenue de la Liberté between the Gare Centrale and the city centre. Only a few lines (13, 14, 19 and 23) will serve the Al Avenue stop in Avenue de la Gare.
In addition, some AVL lines will be adapted to improve public transport services in particular areas. These changes will affect lines 7 (Bonnevoie-Kirchberg),12 (Merl-Parc de l'Europe) and 15 (P+R Bouillon-Hamm), which is set to be provided by electric buses from September 2020, as well as lines 24 (Howald-Centre hospitalier), 27 (Bonnevoie-Bertrange), 28 (Gare Centrale-Strassen), 29 (Cloche d'Or-Senningerberg) and 70 (P+R Kockelscheuer-Hamm). Indeed, the adaptations of lines 24 and 70 will remove the current line 26 (Howald-Kockelscheuer) to be replaced by a new line 26 between Steinsel and Kirchberg.
City Night Bus
The City Night Bus network currently comprising four lines (CN1-CN4) will be adapted to ensure better service to the various districts of the City, including Hamm, Pulvermühl, Weimershof, Mühlenbach, Rollingergrund, Beggen and Dommeldange.
CFL trains
For the duration of these works, the car park drop-off (Kiss + Rail) area will be relocated to the Gare's P+R CFL. The first 30 minutes of parking at are free of charge.
New network map and new hourly pamphlets
As a result of these adaptations, a new version of the network plan as well as new timetable leaflets for the AVL and RGTR lines concerned will be available from 24 October 2019 at the various public transport information points.