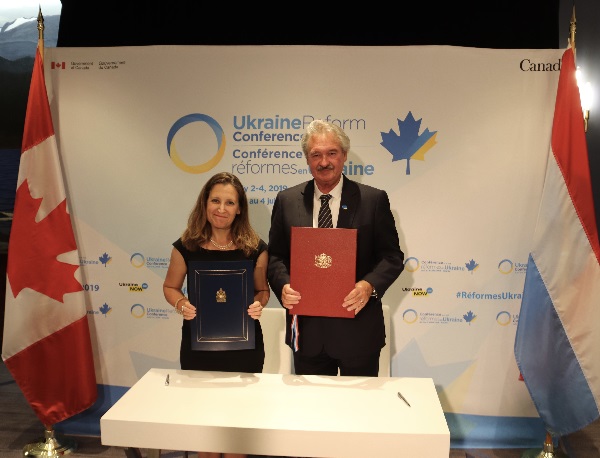 L-R: Chrystia Freeland, Canadian Minister of Foreign Affairs; Jean Asselborn, Luxembourg Minister of Foreign and European Affairs; Credit: MAEE
Luxembourg and Canada have signed a Memorandum of Understanding (MoU) on youth mobility between the two countries.
On the sidelines of the Toronto Conference on Reforms in Ukraine, Luxembourg Minister of Foreign and European Affairs Jean Asselborn met with his Canadian counterpart Chrystia Freeland to sign an MoU between Luxembourg and Canada on youth mobility.
The agreement will make it possible, on the basis of reciprocity and on an annual basis, for 100 young nationals (aged 18-30) of each of the two countries to spend a maximum of one year in the partner country where they will be free to travel, but also to work or study. The host state will issue the applicant with a single visa, called a "working holiday visa".
The main intention of this exchange programme is to allow young adults to spend holidays in the partner country and discover another culture. Whilst the young person may also work or study, he/she must have sufficient financial resources to start his/her stay in the host country.
This protocol with Canada follows earlier agreements with Australia, New Zealand and Chile. Negotiations with South Korea are underway.
During this meeting, the ministers also reflected on excellent bilateral political and economic relations before discussing current European and international affairs, namely the peace process in the Middle East.
They similarly agreed to continue to work for effective multilateralism, stressing that current challenges such as the climate crisis require international cooperation and collective solutions.
Regarding the EU-Canada Comprehensive Economic and Trade Agreement (CETA), Minister Asselborn informed his Canadian counterpart of the Luxembourg Government's approval of the bill ratifying the agreement last Friday.