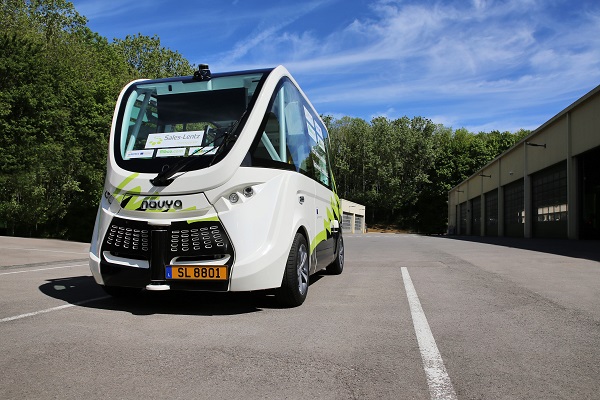 Credit: Sales-Lentz
From 14 to 16 May 2019, Sales-Lentz hosted the third general assembly of the international consortium of the AVENUE autonomous vehicle project at its depot site in Bascharage, Luxembourg.
The AVENUE project on autonomous driving is part of the H2020 programme of the European Commission. The event attracted various international experts in autonomous driving to the "Level 5" demonstration of complete autonomous driving. 37 participants from sixteen companies, universities and research centres from seven countries registered for this event.
Georges Hilbert, Technical General Manager at Sales-Lentz, commented: "The user gets on board, pushes the button and the shuttle rolls. It's the same principle as if you were activating a lift". At Pfaffenthal and Contern, the autonomous shuttles have already been a reality for a while and circulate among regular traffic, but these vehicles still have an operator on board. Testing Level 5 is therefore a major step towards the idea of ​​one day seeing completely autonomous vehicles in the public space.
At meetings and workshops in Bascharage, the international experts and researchers could testify to their experiences in autonomous shuttles through the four pilot cities: Lyon, Copenhagen, Geneva and Luxembourg. Sales-Lentz as project leader in Luxembourg will thus be able to benefit throughout the four years of project from a knowledge coming from confirmed experts.
With autonomous driving, the driver's job will see the transfer to autonomous shuttle operator. Currently still on board, in three to five years this operator will act remotely by controlling and monitoring several shuttles.
The added value of autonomous shuttles is considered the fact that this mode of transport can help to serve areas where services are scarce or to improve service for people with reduced mobility.