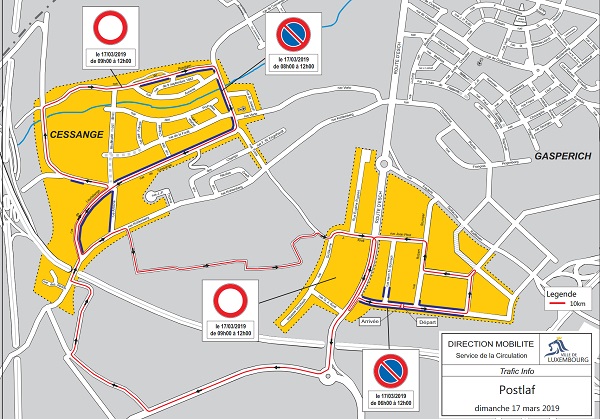 Credit: VdL
The "Postlaf" race scheduled for this Sunday will result in changes to traffic and parking in Luxembourg City and its surrounding areas this Sunday.
On Sunday 17 March 2019, participating runners will make their way to the starting line of the 24th edition of the Postlaf, starting from POST Technologies site in Gasperich-Cloche d'Or at 10:00. The 10km-long circuit will lead runners through the neighbourhoods of Gasperich-Cloche d'Or and Cessange.
As in previous years, the districts of Gasperich-Cloche d'Or and Cessange will be partially closed on the day of the race between 09:00 and 12:00 approximately. The Ville de Luxembourg's (VdL) Traffic Service will set up diversions allowing residents to move around the neighbourhoods concerned.
The sections of streets on the race route will be reserved for runners, but will be reopened to traffic once the last race participant has passed; streets outside the perimeter of the event will remain open to traffic.
In the district of Cessange, parking along the streets of Leudelange, Antoine, Cessange and Roedgen Street will be prohibited from 08:00 to 12:00. Meanwhile, in the Gasperich-Cloche d'Or district, parking will be prohibited between 06:00 and 12:00 in Rue Emile Bian and at the intersection of Rue Emile Bian and Rue Henri M. Schnadt. Sign posts will be put in place. All public car parks will remain open on the day of the race.
Regarding public transport, the race will affect various lines of the VdL's bus network. These include the Tubishaff, Antoine, Rue de Leudelange and Boy Konen stops on line 2, closed between 09:00-12:00 (starting and ending at the provisional stop Rue Nicolas Gredt), and line 4 towards Leudelange, which will be diverted from the Cessange-Fischerhaff stop along Chemin de Roedgen, Rue de Bouillon and Schleiwenhaff to Leudelange-Gemeng. The following stops will be cancelled between 09:15-10:15 in Cessange: Kierch, Duerf, Am Eck and Rue de Leudelange, as well as the following in Leudelange: Grasbësch, Schaefert and Stiédswee. For the return, towards Luxembourg-Gare, line 4 will be diverted from the Rue de Leudelange stop via Kohlenberg and Rue de Tubis. The following stops will be removed in Cessange: Am Eck, Duerf and Kierch. Moreover, between 09:00-12:00, line 18 will have its origin/terminus at the stop François Hogenberg quai 3. The stretch between Gasperich and Kockelscheuer will not be served and the following stops will be removed: Cloche d'Or, Scharfen Eck, Kockelscheuer, Camping and Kockelscheuer, Patinoire.
Free shuttles will depart from P + R Bouillon and Luxembourg-Sud.
All information regarding changes in traffic and public transport will also be available on www.vdl.lu.