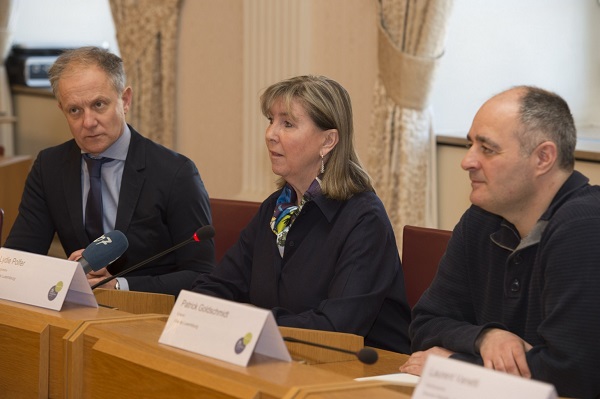 Vel'OH Press Conference; Credit: Copyright Photothèque VDL, Charles Soubry
On Friday, 15 February 2019, the Mayor and Aldermen of the Ville de Luxembourg, together with representatives of JCDecaux, gave details of the technical problems currently encountered by the new bike rental system.
After commissioning the new vel'OH system at the end of November 2018, which involved replacing the original manual bicycles with new e-bikes, JCDecaux (operators of the vel'OH system) encountered certain difficulties, particularly with regard to the recognition of bikes in stations and the reliability of the information that the system transmitted. These technical problems have caused difficulties for many subscribers, not allowing them to access the bikes properly. In order to solve these difficulties, JCDecaux have undertaken to endeavour to correct all the problems encountered as soon as possible (e.g. 1,800 bikes have been modified, and 400 bikes have been returned to the workshop).
Today, problems such as lighting and the recognition of bikes in the stations have been solved; however, the issue of interruption of electrical assistance during trips remains to be corrected.
This problem is related to faulty behaviour of an electronic part of the board that controls the electrical assistance. To correct it, JCDecaux will replace the cards in all bikes and re-program the interaction of all the components of these cards and the entire system, so that all elements interact properly with each other.
JCDecaux has approximately 6 to 8 weeks to refurbish the system to make the system fully operational by mid-April 2019.
Meanwhile, use of the Vel'OH system is being made free-of-charge to customers while the company is updating all components.