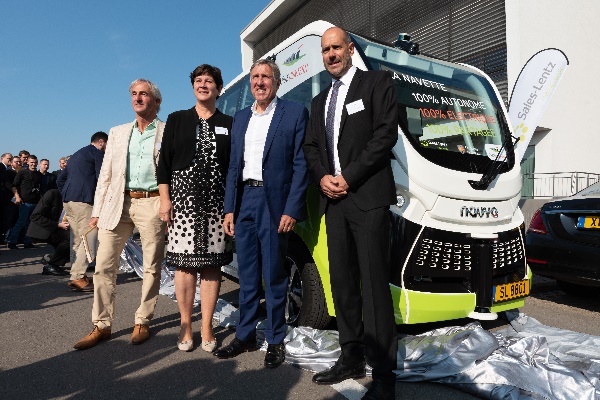 L-R: Marc Diver (CEO Campus Contern), Marion Zovilé-Braquet (Mayor of Contern), François Bausch (Minister of Sustainable Development and Infrastructure), Jos Sales (Partner Sales-Lentz Group);
The first autonomous shuttle in Luxembourg has been launched between Contern and Luxembourg City.
The idea emerged over 2 years ago when the son of Marc Diver, CEO of Campus Contern, saw an article about autonomous shuttles, an innovative and ecological mobility alternative. The proposal corresponded with the aims of Campus Contern: to facilitate the life of its occupants and favour the most ecological and sustainable exploitation.
The next step was to look for solutions by studying the characteristics of the shuttle models on the market and analysing their respective uses. Soon the decision was made to adopt an autonomous and electric vehicle for Campus Contern, in partnership with Sales-Lentz. Contern Mayor Marion Zovile-Braquet and her council subsequently approved the innovative project of the autonomous shuttle and after a "discovery trip" test drive for all those interested, any remaining doubts disappeared and the decision to go ahead with the project of an autonomous shuttle was made.
In close collaboration, the municipality of Contern provided considerable financial support and Sales-Lentz was the ideal partner for the technical know-how, maintenance and operation of the vehicle. The European Community also provided support via a project in which Sales-Lentz was involved.
Authorisations have been obtained, the vehicle insured and infrastructure modified to allow easy movement of an autonomous shuttle in the activity area, and yesterday saw the launch of this shuttle along the Sandweiler / Contern - Campus Contern train route, making it the first journey to Luxembourg to benefit from an autonomous shuttle. This first experience will therefore serve as a trigger for implementing the autonomous shuttle in many other cities and thus facilitate soft mobility on the territory of Luxembourg.
Finally, the municipality of Contern, together with the Ministry of Sustainable Development and Infrastructure and companies with their headquarters in the municipalities of Contern and Sandweiler, has drawn up a "Mobility Charter" to improve the traffic situation in the business parks. The signing of the mobility charter promises to commit to promoting public transport and soft mobility through concrete actions in companies and municipalities.