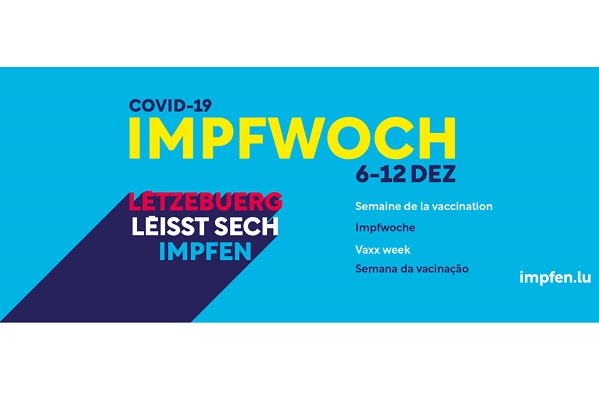 Credit: MSAN
As part of the nationwide COVID-19 vaccination week (Impfwoch), Luxembourg's Ministry of Health is organising an information day (IMPF'O'DAY) this Saturday 11 December 2021 at the Athénée de Luxembourg in Luxembourg-Hollerich.
IMPF'O'DAY consists of two conference-debates, taking place in person and remotely (online), which will bring together various health experts to debate the topic of vaccination against COVID-19 and answer questions from the public.
Participation in these conferences is free of charge.
Luxembourg's Minister of Health, Paulette Lenert, will open both conferences.
Morning: conference-debate for healthcare sector
The first conference, which will take place from 10:00 to 12:00, is aimed at people working in the healthcare sector and will bring together the following experts: Dr Isabel De La Fuente Garcia, Dr Thomas Dentzer, Christophe Dohm (nurse), Dr Claude Muller, Dr Jean-Claude Schmit and Dr Gérard Schockmel.
Participation in this conference is by invitation only.
Afternoon: conference-debate for general public
The second conference, which will take place from 13:00 to 14:30, is aimed at the general public. Among the invited experts are Dr Charles Benoy, Dr Isabel De La Fuente Garcia, Dr Thomas Dentzer, Dr Claude Muller, Dr Jean-Claude Schmit, Dr Gérard Schockmel and Annick Schons (nurse).
The introductory speeches will be in Luxembourgish, but the experts will answer questions from the public in five languages ​​(French, German, Luxembourgish, English and Portuguese).
To participate in this conference in person, register online before 18:00 on Friday 10 December 2021 via the following link: http://signin.lu/impfoday-dir-frot-mir-antweren. It is also possible to watch the event live on YouTube and to ask questions online at https://www.youtube.com/watch?v=7KUXuoAcjC4.
The conferences held on site will take place under the "3G" (vaccinated, recovered or tested negative) CovidCheck system.
Moreover, from 13:00 to 17:00 on Saturday, information booths will be set up at the entrance of the Athénée, where experts will be available to answer coronavirus-related questions. Visiting these booths is possible without CovidCheck, but visitors must respect the sanitary rules in force, i.e. wearing a mask and keeping a minimum physical distance of two metres.