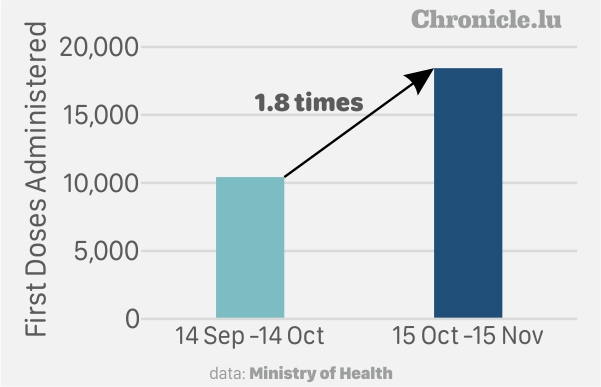 The number of people in Luxembourg receiving their first dose of a COVID-19 vaccine has increased since the introduction of new CovidCheck rules, according to Luxembourg's Minister of Health, Paulette Lenert.
In response to a parliamentary question (No. 5129), the Health Minister reported that since the obligation to present a CovidCheck certificate to access certain establishments and events effective from 18 October 2021, the number of first doses of a COVID-19 vaccine administered in Luxembourg increased to 18,442 doses between 15 October to 15 November 2021 - 1.8 times higher than that of the previous month, between 14 September to 14 October 2021 (10,431 first doses).
Minister Lenert also noted that with the Pfizer-BioNtech vaccine, which could receive marketing authorisation by the European Medicines Agency (EMA) in the coming weeks to be administered to children aged 5 to 12, the vaccination rate could still significantly increase since until now the population aged 5 to 12 was excluded from the possibility of having recourse to vaccination.