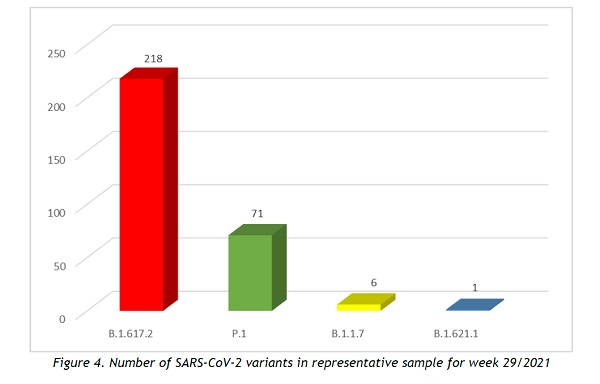 Credit: LNS
The National Health Laboratory (Laboratoire National de Santé - LNS) has published its weekly COVID-19 report for the period 19 to 25 July 2021.
Regarding SARS-CoV-2 genomic surveillance, the LNS analysed 356 specimens during the week (week 29) in question (out of a total of 566 cases in Luxembourg,i.e. 62.9%). This exceeds the minimum coverage (10%) and sample size recommended by the European Centre for Disease Prevention and Control (ECDC).
Community surveillance revealed a sharp decrease of Gamma (P.1) variant cases (down 65% compared to week 28) and a slight increase of Delta (B.1.617.2) variant cases, which has followed an upward trend since week 24. Currently, the Delta variant continues to be the dominant variant, representing 73.7% of total cases in Luxembourg. The Gamma variant represented 23.9% of cases, whilst the Alpha (B.1.1.7) variant represented 2.0% of all cases in week 29. The Beta (B.1.351) variant represented 0% of cases for the week in question; other variants represented 0.3% of cases.
Concerning target group surveillance, all cases analysed were identified as variants of concern (VOC) cases. Thirteen post-vaccination breakthrough cases were identified as VOCs.