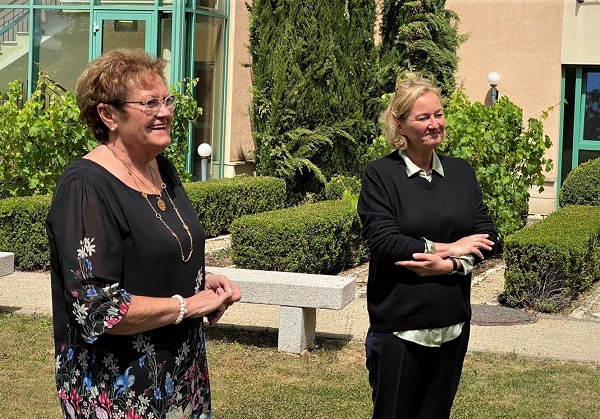 L-R: Monika Bachmann, Health Minister of Saarland; Paulette Lenert, Luxembourg's Minister of Health; Credit: MSGFF
Luxembourg's Minister of Health Paulette Lenert met with her Saarland counterpart, Monika Bachmann, on Tuesday to discuss the effects of measures taken to contain the spread of coronavirus and analyse the situation on both sides of the border.
Health Minister Paulette Lenert took this opportunity to explain Luxembourg's testing strategy: "Since the beginning of the crisis and later as part of our approach to easing initial restrictions, Luxembourg has adopted an ambitious and broad test strategy, consisting of PCR diagnostic tests for people with symptoms, as well as large-scale tests to identify asymptomatic persons. So far, more than 400,000 tests have been carried out on a population of 620,000. Luxembourg is also systematically extending the tests to the more than 200,000 cross-border workers who come in from neighbouring regions every day".
Due to the high number of new infections since the beginning of July, Luxembourg has been classified by Germany as a risk area since 14 July 2020. Anyone entering Saarland from Luxembourg is currently required to present a negative coronavirus test result that is not older than 48 hours in order to avoid having to quarantine.
Saarland Health Minister Monika Bachmann explained that unexpected but "necessary" measures had had to be taken in order to contain the spread of the virus: "In order to successfully contain the corona pandemic, appropriate measures and regulations were and are necessary that we would never have expected at the beginning of the year. This also includes the quarantine regulation for incoming and return travellers from risk areas". She continued: "The Saarland government is now again particularly committed to the German-Luxembourgish as well as the German-French friendship. We are in close contact with the respective representatives at all times to master the current situation together".
That is why regional dialogue remains important to the respective authorities, who will regularly re-analyse the situation. Even closer cooperation between the border regions, especially Saarland and Luxembourg, is to be created through joint, cross-border strategies. The efforts are directed towards joint pandemic plans and the exchange and provision of personnel or equipment in the event of an emergency.
Further talks are planned for the summer so that the first results can be presented at the end of the year.