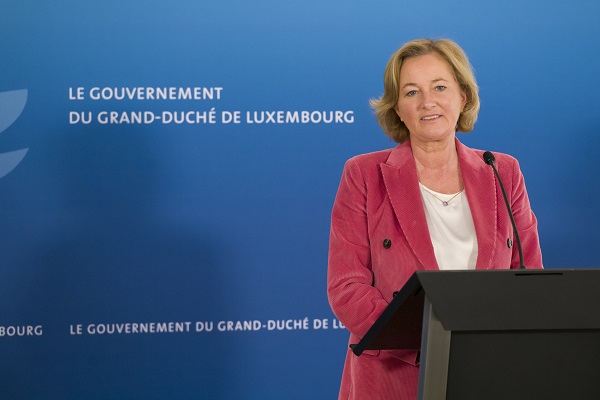 Paulette Lenert, Luxembourg's Minister of Health; Credit: SIP
Luxembourg's Prime Minister Xavier Bettel and Minister of Health Paulette Lenert held a press conference this afternoon on the current COVID-19 situation; they confirmed that most new cases resulted from private gatherings and announced that further measures will be introduced on Sunday if numbers do not go down.
Prime Minister Xavier Bettel began by recognising that infections numbers are high, regardless of the role played by large-scale testing and the testing of cross-border workers. He stressed that "fewer tests are not an option", stating that testing is the "best weapon we have" against the virus. The Prime Minister added that the priority remained preventing hospitals from being overwhelmed. As such, the crisis unit has been reactivated.
In addition, the Luxembourg government has contacted authorities abroad to clarify the particularity of Luxembourg's situation, namely concerning large-scale testing and a large number of cross-border workers. Prime Minister Xavier Bettel called on European solidarity and argued that a country should not be punished for testing more. He later maintained his conviction that Luxembourg's testing strategy was the right approach.
He also recalled that the preventative measures such as wearing masks and respecting physical distance and barrier gestures remained in place. New measures, determined in collaboration with experts, are set to be announced on Sunday if the number of infections continue to rise in the coming days. In addition, MPs will discuss a new COVID-19 bill tomorrow.
Health Minister Paulette Lenert also stressed the importance of testing as widely as possible, namely to allow the authorities to detect infected individuals and find and isolate their contacts so as to limit transmission of the virus. She confirmed that 66% of tests carried out to date formed part of large-scale testing, whilst 34% concerned regular testing (for example, at the request of a doctor or someone showing symptoms). However, only 15% of positive tests were the result of large-scale testing.
As in recent weeks, most new infections are found among young adults, with the average age being 35. However, 40% of newly infected individuals had already placed themselves in quarantine prior to receiving their positive test result. The Health Minister added that manual contact tracing had proven challenging, although both she and the Prime Minister later confirmed that any potential digital tracing app would serve to complement rather than replace manual tracing.
Minister Paulette Lenert confirmed that no specific new clusters of infections had been detected recently, with most cases being transmitted through private gatherings such as birthday parties. At such events, it is important to maintain physical distance. The Health Minister also stressed the importance of knowing with whom one has had contact and calling the authorities as soon as they know they have contracted the disease in order to stop its spread.
The Health Minister also announced that police had issued 23 fines to bars and restaurants found to have violated restrictions. Such violations risk a €4,000 fine; repeat offenders face a €8,000 fine.