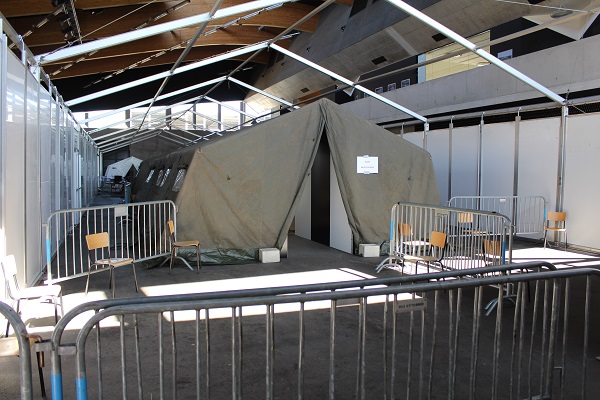 CSA Ettelbruck; Credit: SIP
Luxembourg's Ministry of Health has announced that the advanced care centres set up at LuxExpo and the Rockhal will definitively close their doors from Monday 8 June 2020.
This permanent closure follows that of the advanced care centres in Grevenmacher and Ettelbruck last Friday. These centres were set up temporarily in March in response to the COVID-19 health crisis.
Patients displaying COVID-19 symptoms may refer to their general practitioners, or, in the case of an emergency, to a hospital emergency department.
Since their establishment in March, the four advanced care centres have received a total of 9,108 individuals and carried out a total of 17,592 tests (centres plus drive through testing). The centres carried out 423 medical visits as well as 181 patient transfers to hospitals.
The centre at the Rockhal in Esch-Belval received the greatest number of individuals (3,398), followed by that of LuxExpo in Luxembourg-Kirchberg (2,669). The centres at the Däichhal concert hall in Ettelbruck and the cultural centre in Grevenmacher received 2,053 and 988 visits, respectively.