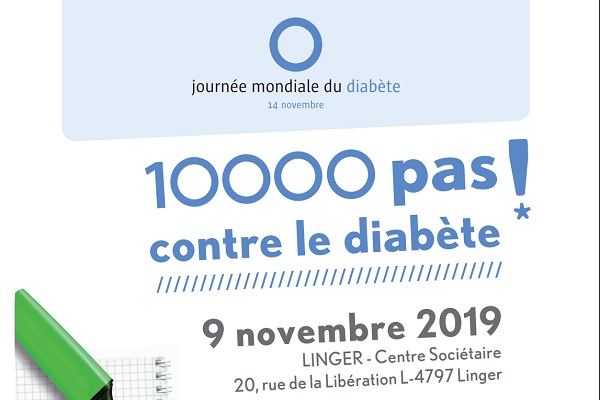 Luxembourg's Ministry of Health, in collaboration with the Luxembourg Diabetes Association (ALD), have launched an awareness campaign on the occasion of World Diabetes Day 2019 (14 November).
Since 1980, the number of people suffering from diabetes has almost quadrupled. This is partly due to an increase in the number of overweight people, including an increase in obesity and a widespread sedentary lifestyle. In Luxembourg, more than 25,000 people have diabetes. In the vast majority of cases, it is type 2 diabetes, which is strongly related to lifestyle.
Luxembourg's Minster of Health, Étienne Schneider, commented: "If we want to prevent the progression of this disease, and in particular that of type 2 diabetes, we must rethink our daily habits, that is to say, adopt a healthy diet, practise a regular physical activity, maintain a normal weight and stop smoking".
In terms of diagnosis, one in four adults with type 2 diabetes are undiagnosed and therefore not treated. However, if the disease is diagnosed early, treatment can be put in place early and the risk of severe and costly complications can be reduced. Indeed, whilst diabetes is a chronic disease that cannot be cured, it can be treated and controlled. The disease is caused by a lack of the hormone insulin; diabetes thus prevents the body from using sugar properly as a source of energy. It accumulates in the blood and can cause myriad complications including coronary heart disease, kidney failure and blindness.
This year's World Diabetes Day centres once again around the theme of "family and diabetes" and intends to draw attention to the important role that family can play in the prevention of type 2 diabetes (lifestyle changes), early detection and management of the illness.
In Luxembourg, additional efforts are being made to raise awareness among people with diabetics and health professionals about the beneficial effects of therapeutic education on the management of such chronic diseases. More specifically, the Ministry of Health and the ALD, along with the Société luxembourgeoise de diabétologie (SLD) and Luxembourg's four hospitals will hold awareness events on 7, 9 and 14 November 2019. These events will focus on screening for obesity, being overweight and diabetes, with the possibility of calculating the risk of diabetes, thanks to the questionnaire "Findrisk" and a blood sugar measurement.
Programme
Thurs. 07/11/19: "Nationale Gesondheetsdag" (national day of health) at City Concorde, with more than 25 information stands and live entertainment on RTL Radio Lëtzebuerg, from 09:00-18:00.
Sat. 09/11/19:

"10,000 steps against diabetes" solidarity march in Linger (depart: Centre sociétaire, Linger). An awareness-raising action aimed at promoting physical activity and a healthy diet in the prevention and treatment of type 2 diabetes. The event is organised every year in collaboration with the Fédération de la marche populaire (FLMP) as part of the national programme "Gesond iessen, Méi beweegen". Participants can run 5km or 10km or join the family rally "Diabetes Go!" (5km), followed by a "Fitness buffet and the chance to learn about and calculate their risk of diabetes;
Diabetes screening at the Centre hospitalier Emile Mayrisch (CHEM) Diabetes Clinic in Esch-sur-Alzette;
Diabetes screening during the "Matinée Santé Dudelange" at the Centre culturel Opderschmelz, from 09:00-13:00.

Thurs. 14/11/19: Conferences, workshops and information booths of various companies on injection equipment, blood glucose measurement systems and other equipment needed for the treatment, self-control and care of diabetics. These will take place at the Centre hospitalier du Nord (CHdN) in Ettelbruck and Wiltz from 13:00-17:00, at the Belle Étoile shopping centre from 11:00-15:00 and at the Centre Hospitalier de Luxembourg (CHL) from 17:00-19:00 (conference evening).