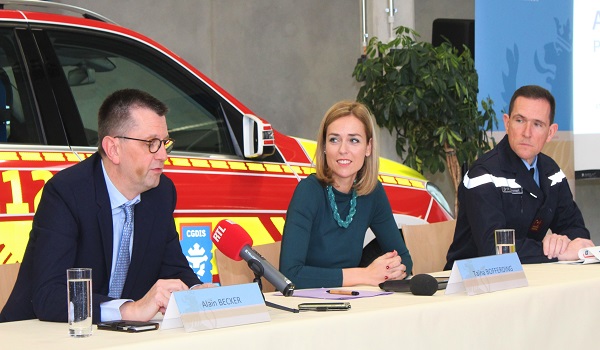 L-R: Alain Becker, Chairman of the CGDIS Board of Directors; Taina Bofferding, Minister of the Interior; Dr. Pascal Stammet, Medical Director of CGDIS; Credit: Ministry of Interior
The introduction of a fourth vector is set to strengthen the Emergency Medical Assistance Service (SAMU) in Luxembourg.
On Friday 15 March 2019, Interior Minister Taina Bofferding announced the strengthening of the SAMU. The Luxembourgish SAMU system, set up in the 1980s, has been considered one of the most efficient in the world, thanks to its highly qualified staff and modern equipment. The crew of each SAMU base is composed of a doctor specialised in anesthesia-intensive care and a nurse in anesthesia and resuscitation.
However, there are plans to maintain its efficiency in the future, as well. Since the entry into force of the SAMU in Luxembourg, the population has increased from 386,000 inhabitants in 1986 to 602,000 inhabitants in 2018 and the number of cross-border commuters has almost quadrupled, from some 50,000 to more than 184,600. Based on the demographic data, Luxembourg has a SAMU vector for about 200,000 inhabitants and for more than 260,000 people present in the area during the day.
Despite these demographic changes, there have been no adaptions to the number of SAMU vectors since the 1980s. The Ministry of the Interior thus unveiled plans to set up a fourth vector. The chairman of the CGDIS board of directors, Alain Becker, has subsequently specified that this additional vector will be stationed from 1 July 2019 in a first phase with the Fire and Rescue Centre Hesperange in order to guarantee homogeneous territorial coverage.