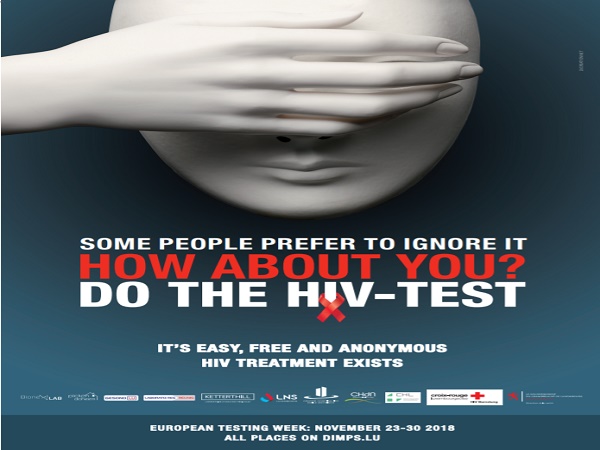 The Luxembourg Red Cross's HIV Counselling service and the Ministry of Health will participate in the European HIV Testing Week by organising a screening week in Luxembourg.
This week, which will take place from 23-30 November 2018, is an opportunity to highlight that HIV testing is the only way to know one's HIV status, that is to say, whether one has been infected with HIV or not. Initiated for several years by the movement "HIV in Europe" this screening week conducted at the European level aims to raise awareness about the benefits of HIV testing, the risks, and the effectiveness of treatment for those who test positive.
Indeed, in case of HIV infection, it is essential to know one's HIV status as soon as possible. Today, thanks to early treatment, people living with HIV have a life expectancy comparable to HIV-negative people and can lead fulfilling love lives with HIV-negative children. It is now proven that a person under treatment, whose viral illness has become undetectable for at least 6 months, no longer transmits the virus sexually.
Nevertheless, it is estimated that 25% of the 1.2 million people living with HIV do not know they are infected, and nearly 50% of those who are HIV positive are diagnosed late, delaying treatment and thus increasing the risk of developing an infection and transmitting the virus to others. In Luxembourg, just over 1,000 people are living with HIV, and an estimated 20% of people living with HIV do not know it because they have not had the test.
This European HIV Testing Week, it will be possible to carry out a free and anonymous blood test in the various branches of Pickendoheem, KetterThill, Gesondheets-Service Lëtzebuerg and Labos Réunis as well as (throughout the year) the Centre hospitalier Emile Mayrisch in Esch-sur-Alzette, Centre hospitalier de Luxembourg, Centre hospitalier du Nord in Ettelbrück and the National Laboratory.
The Red Cross's DIMPS (Mobile Intervention Device for the Promotion of Sexual Health), which offers the possibility of rapid HIV testing, will be at the Rives de Clausen on Friday 23 November for the opening of the Testing Week, from 21:00-23:00, as well as at the Luxembourg Gare on Monday 26 November from 11:00-15:00. It will also be possible to carry out quick, free and anonymous testing every working day from 26-30 November at the HIV Counselling service of the Red Cross (94, boulevard du Général Patton), from 17:00-19:00.
More information on www.croix-rouge.lu and www.dimps.lu