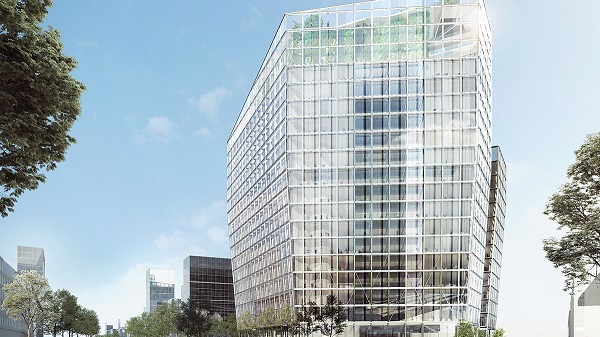 Credit: ArcelorMittal
Construction has officially started on ArcelorMittal's new global headquarters, ArcelorMittal Kirchberg, following a groundbreaking ceremony on Wednesday 21 June 2023 at the building site in Luxembourg-Kirchberg.
During the event, a steel beam, made with ArcelorMittal's XCarb® recycled and renewably produced steel, was lowered into place to signal the start of construction, in the presence of Luxembourg's Prime Minister Xavier Bettel and Deputy Prime Minister François Bausch, as well as Lakshmi Mittal, Executive Chairman of ArcelorMittal, Aditya Mittal, CEO of the ArcelorMittal Group, Michel Wurth, member of the Board of Directors, and Jean-Michel Wilmotte, architect and designer of the project.
ArcelorMittal reflected in a press release that the location of the new headquarters building reflects the steel giant's historic ties to Luxembourg, where the company has its head offices as well as five industrial sites producing or processing steel.
Designed by Wilmotte et Associés, with a detailed brief to "design a modern, sustainable building that harnesses all the potential of steel from top to bottom", ArcelorMittal Kirchberg is described as a showcase for the use of steel in sustainable construction. The building, which will be commissioned in the first quarter of 2026, incorporates 10,000 tonnes of ArcelorMittal steel, mainly produced in Luxembourg from recycled steel. The beams are made from XCarb® recycled and renewably produced steel, which, according to ArcelorMittal, has a carbon footprint that is seven to eight times smaller than conventional steel, representing a saving of more than 10 tonnes of CO2 per beam.
The building will have a crystal-like appearance, owing to its structure which is based on an exoskeleton, which spirals outwards and opens onto the city through a plant-covered façade. In addition to its contemporary architecture, the new headquarters offers, according to ArcelorMittal, flexible, modular working and living spaces to ensure a positive working environment for employees. The building is set to be fully aligned with three major environmental labels: BREEAM (outstanding level), DGNB (Platinum level) and WELL (Gold level).
The completed building is also intended as a showcase for deconstruction and the reuse of steel in the construction industry. To encourage the next generation of designers to think differently about project using steel, ArcelorMittal Luxembourg will launch an international architectural competition inviting students to submit an architectural project for steel reuse.
Lakshmi Mittal said: "Groundbreaking is always an exciting moment and I am very proud to be in Luxembourg today to mark the start of construction on our new headquarters here in Luxembourg. As the leader in the steel and mining industry, it is important for ArcelorMittal to have a building that embodies our strategic vision for our business and reflects new ways of working." He also thanked the Luxembourg government for its support.
"Our new world headquarters is the perfect symbol for ArcelorMittal and our purpose of 'smarter steels for people and planet'. It will clearly demonstrate what ArcelorMittal steel can achieve in terms of environmentally-responsible and sustainable construction," Aditya Mittal added. "And most importantly, this building is for our employees, providing them with an environment which we hope will inspire them to continue to develop brilliant ideas for increasingly smart steels for the future."
Michel Wurth commented: "The construction of ArcelorMittal's new headquarters in the Grand Duchy reflects our desire to maintain and deepen the historic link between the country and the steel industry. It is also, and above all, a strong signal of the group's desire to invest in Luxembourg. Finally, it is recognition of the quality of our Luxembourg steel, which accounts for almost 90% of all the steel used in this exceptional building."
Prime Minister Xavier Bettel noted: "The completion of this project is the culmination of the close cooperation and mutual trust that exists between the Luxembourg State and ArcelorMittal. We are proud to welcome a world industrial leader that has made the strategic choice to confirm its location in the Grand Duchy; as a major economic and social player in Luxembourg, it is important for the country to be able to count on this commitment. It augurs well for a prosperous future with a partner that also takes environmental issues into account in its business model."
Deputy Prime Minister François Bausch added: "With this new building, Luxembourg is confirming its role as a forerunner in innovative and sustainable steel construction. It will offer its residents the very best in working environments. We are all looking forward to seeing the Kirchberg district take on a new face with this building."
Finally, Jean-Michel Wilmotte spoke of "the strong signal in terms of urban planning that this building represents, springing up right in the heart of the Kirchberg plateau." He elaborated: "The building pays a tribute to the steel industry and represents the mechanical prowess of this remarkable material in complex construction project. [...] ArcelorMittal's new headquarters will contribute to Luxembourg's international reputation."