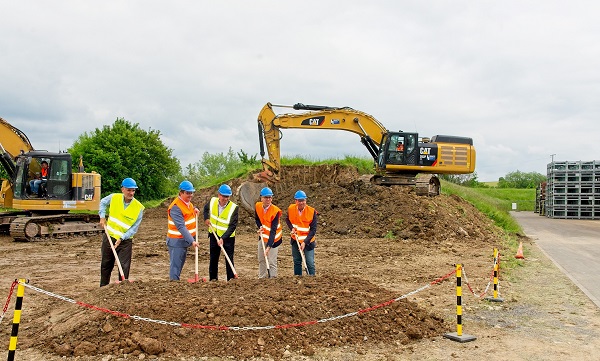 (L-R): Jean-Pierrer Aguirre, Webasto; Biwer Mayor Marc Lentz; Axel Berning, Webasto; Grevenmacher Mayor Léon Gloden; François Knaff, Economy Ministry.;
On Tuesday 23 May 2023, the automotive supplier Webasto held an official ground-breaking ceremony in Grevenmacher as it invests in a new production line for high-tech glass and initiates the construction of a new facility.
Leon Gloden, Mayor of Grevenmacher, Marc Lentz, Mayor of Biwer, and Francois Knaff, a representative of Luxembourg's Ministry of Economy, were guests at the site in Grevenmacher to celebrate the ground-breaking ceremony for this expansion of the Webasto facility.
During the expansion of production, Webasto is developing the existing infrastructure area by approximately 13,000 m2 and modernising part of the existing facility with state-of-the-art technology. This optimisation includes expanding capacity, achieving significant energy savings and increasing production efficiency.
By investing in the new facility, Webasto is strengthening the region in Luxembourg as a competent centre for high-tech glass. The completion of the new production line is planned for mid-2024. To ensure the perfect progress of this production extension, over 60 qualified employees will be hired.
High-tech glass serves as the technological foundation for new equipment features such as light effects, shading at the touch of a button, and integrated solar cells in the roof system. To respond to this trend, Webasto Luxembourg is planning to build a new glass production line.
The renovations and expansions increase production and enable the manufacture of large high-tech glass roofs for automobiles. "In the glass of these systems, innovative technologies such as switchable glazing, lighting, or solar cells are integrated. These new features in the glass make the roof of the vehicle an innovation platform," explained Axel Berning, Managing Director of Webasto Luxembourg.
The Grevenmacher production site has been in operation since 1992, initially under the ownership of the American glass manufacturer Guardian Industries Corp. From 2014, it was operated under the name Carlex by the Central-Glass Co. Ltd. and since August 2022, the facility has been part of the Webasto Group.