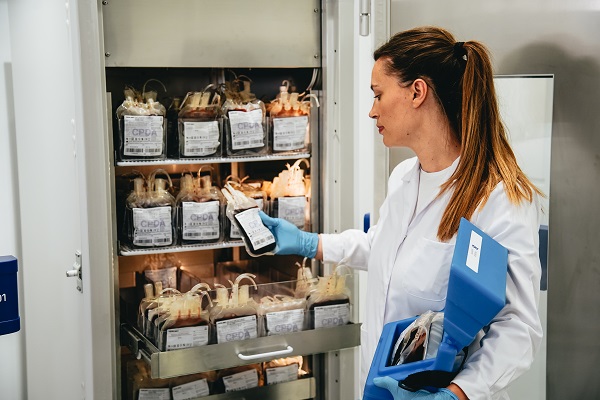 Credit: B Medical Systems
On the occasion of World Blood Donor Day, celebrated each year on 14 June, B Medical Systems, a Luxembourg-based global manufacturer and distributor of vaccine cold chain and medical refrigeration solutions, has shared its expectations that demand for the transport and storage of blood and blood products will witness a significant rebound.
According to the Belgian Red Cross, fewer than one in ten people donate blood, while one in seven people will one day need a blood transfusion to survive.
B Medical Systems, which is based in the northern Luxembourg village of Hosingen, recognised that the lifting of most COVID-19 restrictions across Europe has made it is easier to collect and donate blood. Other factors, such as the impact of the war in Ukraine, are also driving demand, according to the manufacturer.
This prediction comes on the occasion of World Blood Donor Day, the aim of which is to inform about the global lack of blood donations and to give impetus to efforts to recruit new donors for routine medical procedures, as well as for emergency medicine.
As explained by B Medical Systems, blood products are very sensitive biological substances and cannot be stored in household refrigerators. This is especially the case for packed red blood cells, which should always be stored between 2°C and 6°C - a very small temperature range. Medicines, for example, tolerate a refrigeration temperature range of between 2°C and 8°C. Storage temperature is therefore deemed very important and requires specialised equipment. Domestic refrigerators are not suitable for storing blood because they have too great a temperature difference between the bottom and top shelves. In addition, refrigerators must have particularities in terms of vibrations. The compressor in a domestic refrigerator causes vibrations that can cause the breakdown of red blood cells. Using adequate material is therefore strictly necessary to store red blood cells, according to B Medical Systems.
Andrea Scammacca, Chief Operational Officer (COO) at B Medical Systems, explained: "Following the expected increase in demand for blood distribution, we are increasing the production of our transport boxes designed specifically for the transport of blood and its components such as cells, plasma and platelets in a secure, temperature-controlled environment".
B Medical Systems' range of blood transport and storage solutions consists of five passive boxes with optional cooling elements and one active unit powered by a compressor. Specifically designed for blood banks and blood transfusion centres, the models offer a wide variety of transport solutions in terms of storage volume (from 2.2 L to 90 L) and temperature requirements (-32° C, +4°C, +22°C and +37°C). All meet the highest safety standards for end users and patients and are classified as medical devices (Class IIa) according to the European Medical Device Regulation.