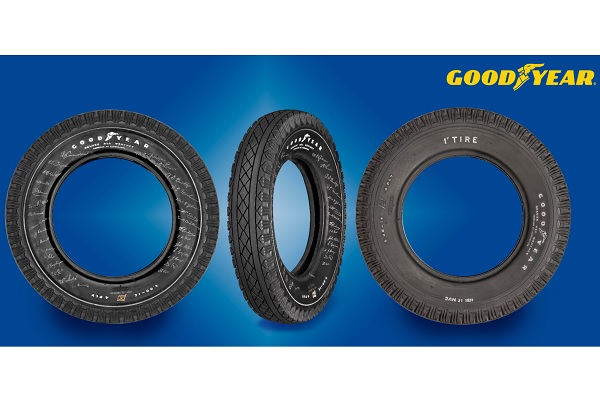 Goodyear's first tyre made in Luxembourg (1951); Credit: Goodyear
Goodyear is celebrating the 70th anniversary of making its first tyre at its production site in Colmar-Berg, in central Luxembourg.
In 1948, the tyre manufacturer Goodyear decided to open a production site in continental Europe to be closer to the European market and chose Luxembourg as the best location due to its political and social stability, favourable geographical location, the stability of the currency and the availability of labour workforces. The "Goodyear S.A." company was registered in Colmar-Berg on 27 July 1949. Almost two years later, on 31 January 1951, the first Goodyear tyre rolled off the belt in this newly built tyre plant.
"At the start of production in 1951, our plant was Goodyear's 35th factory and the first in continental Europe. We employed 330 local people and produced around 500 tyres per day," explained Production Director Josy Blum. "Continuous investments allowed us to significantly increase our capacity and capability in the tire plant ever since the beginning, resulting in over 125 million built tyres in the last 70 years".
The company has also significantly expanded its overall operations in Luxembourg with, for example, the Goodyear Innovation Centre in 1957, Mold Plant and Test Circuit in 1970, the European Calendaring Centre in 1997 and a new automated tyre plant in Dudelange planned to be inaugurated in 2021.
Xavier Fraipon, Vice President of Product Development, EMEA, commented: "We are very proud of the footprint we have built in Luxembourg over the last 70 years. Our integrated industrial complex in Luxembourg presents Goodyear's most diversified complex outside the United States. With around 3,450 employees of around 50 different nationalities, we are one of the ten biggest employers in the country. As we celebrate this remarkable anniversary, we wish to thank all our current, past and future associates for making Goodyear the great company it is".
Goodyear has committed itself to forward-thinking innovation and long-term success. The company is currently finalising its $77 million investment in the state-of-the-art facility in Dudelange, as well as a $36 million investment in the Lux Tyre plant to increase production of off-the-road tyres and make process improvements.