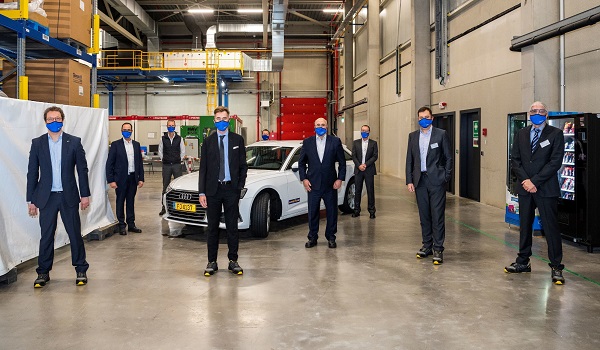 L-R: David Anckaert; Georges Thielen; N/A; Franz Fayot, Minister of the Economy; Xavier Fraipont; Chris Delaney; Alain Dessy, Dudelange Facility Director; François Knaff; Marco Walentiny; Credit: Goodyear
On Friday 11 December 2020, Franz Fayot, Luxembourg's Minister of the Economy, visited Goodyear's new tyre facility in Dudelange to see the progress of the tyre company's $77 million investment in the Grand Duchy.
Minister Franz Fayot witnessed the innovative production process in this highly automated facility before the plant's official opening planned in spring 2021.
After the visit, the Economy Minister commented: "Goodyear's investment is a leading example of Industry 4.0 technologies right here in the Luxembourg manufacturing sector, proving what can be done in partnership between the government and industry. Goodyear's new tire facility in Dudelange fits perfectly with our vision to make out of Luxembourg an internationally recognized platform for sustainable industrial excellence through innovative solutions. I wish to congratulate Goodyear on great progress with the project despite the ongoing pandemic".
Chris Delaney, President of Goodyear's Europe, Middle East and Africa business unit, added: "We were honoured to host Minister Fayot for a sneak peek of our new state-of-the art, automated tire facility in Dudelange. Despite the challenges and hurdles related to the pandemic, the Goodyear team has continued to make significant progress on the project, with a priority on safety and quality".Goodyear expects to begin supplying tires from Dudelange to its distributors in the early part of 2021.
Goodyear is one of the world's largest tyre companies. It employs about 62,000 people and manufactures its products in 46 facilities in 21 countries around the world. It has two "Innovation Centers", one in Akron in Ohio (US) and the other in Colmar-Berg in Luxembourg. The company has been present in the Grand Duchy, where it employs about 3,400 associates, since the 1950s.