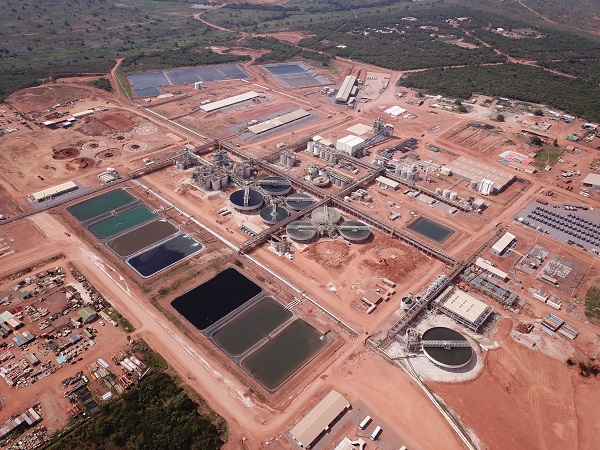 Metalkol RTR: ERG cobalt and copper facility in the DRC;
Eurasian Resources Group (ERG), a leading diversified natural resources group headquartered in Luxembourg, recently participated in a commodities summit entitled "Preparing for the Energy Transition", hosted by the Financial Times in partnership with Nikkei, in Tokyo, Japan.
Speaking alongside other world-leading industry participants such as Rio Tinto, Trafigura, JOGMEC and METI, ERG highlighted the crucial role that metals suppliers have in driving the Fourth Industrial Revolution. ERG also outlined its ambition to continue to strengthen its regional presence and commercial relationships with partners in countries including Japan, China and South Korea.
Benedikt Sobotka, CEO of Eurasian Resources Group, delivered a keynote address to the Summit in which he presented the Group's vision on the responsible and sustainable sourcing and supply of key materials, including cobalt and copper, for the global battery sector.
While strongly in favour of the increasing prevalence of electric vehicles (EVs), the Group acknowledged that challenges for the batteries industry include curbing pollution, adhering to social and environmental norms and regulations and ensuring that materials are not sourced with the use of child labour. Child labour is widely used by small-scale, artisanal miners. The artisanal mining sector accounts for approximately 25% of global cobalt supply.
As further detailed by ERG at the Summit, the Group is working to implement a Clean Cobalt Initiative at Metalkol RTR in the Democratic Republic of the Congo (DRC), its reprocessing facility for historic cobalt and copper tailings from previous mining operations, aiming to guarantee sustainable and responsible sourcing of cobalt. At full capacity, Metalkol RTR will produce 120,000 t/y of copper and 24,000 t/y of cobalt, enough to build more that 3 million EVs per annum.
ERG's cobalt is being sold to Japanese battery makers, battery materials producers, electronics firms, specialty steel producers, catalyst and other chemical producers and magnet manufacturers, and ultimately much of this goes to the automotive sector. ERG is also a long-term supplier of ferroalloys to Japan's largest stainless steel producers and manufacturers of low alloy chromium steels. It is one of the largest suppliers of high-carbon ferrochrome to the country.
Dr Alexander Machkevitch, Chairman of the Board of Directors at ERG, commented on ERG's participation at the Summit in Tokyo: "An economic powerhouse, Japan is at the forefront of technological innovation. Japanese businesses have been among ERG's most reliable customers. On behalf of the Group, I would like to thank our partners in Japan for their ongoing support and effective input into further strengthening the global supply chains for ferroalloys and cobalt, both of which are at the core of ERG's business."
Mr Sobotka said: "Cobalt is key in the growth of EVs, but the sustainable supply of the material requires long-term planning and multi-billion dollar investments. To this end, EV manufacturers need to commit to sourcing cobalt responsibly, as ERG has done at Metalkol RTR. We look forward to continuing our work with our Japanese counterparts as we expect to attract additional interest in the Asian markets when we start shipping cobalt from Metalkol RTR in early 2019."
"Kazchrome, ERG's business in Kazakhstan, is one of the largest and longest-standing strategic suppliers of high-quality ferroalloys to the Japanese market, a relationship that dates back more than 20 years," he added.