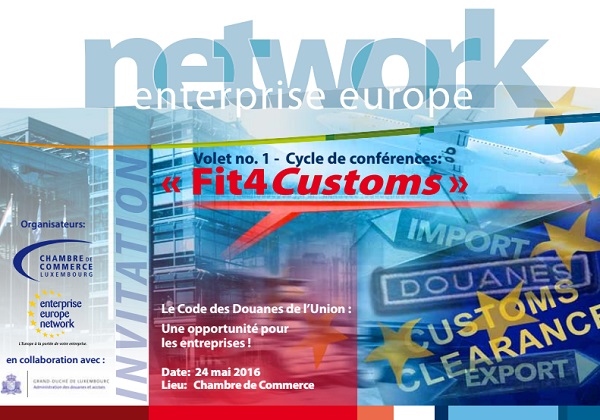 As part of its 'Enterprise Europe Network - Luxembourg' activities, the Luxembourg Chamber of Commerce has announced the first talk of the new 'Fit4Customs' lecture series.
Centered around the theme of 'Le Code des douanes de l'Union: Une opportunité pour les entreprises!' ('The Customs Code of the Union: An Opportunity for Businesses!'), the lecture will be held from 09:00 to 14:00 on Tuesday 24 May 2016 at the Chamber of Commerce Conference Centre.
The customs union is one of the pillars of the European Union and a key element in the single market. In an increasingly digitised and interconnected economy in which commercial business exchanges are multiplying and being carried out at an increasing speed, customs are facing new challenges. In order to continue to guarantee the flow of these international exchanges whilst performing the necessary checks for the health and safety of EU citizens, customs procedures therefore need to be modernised in cooperation between the Member States of the reinforced Union.
The programme will feature talks by Susanne Aigner, Head of Unit A2 Customs legislation of the TAXUD Directorate General of the European Commission and Marc Duhr, Senior Inspector of the Customs and Excise Administration, as well as two workshops.
Participation in the event is free but requires prior registration here before 15:00 on 23 May 2016. Any cancellation not communicated in writing 24 hours prior to the event will result in a €50 cancellation fee per participant. On the day of the conference, all participants must go to the welcome stand to recover their badge.