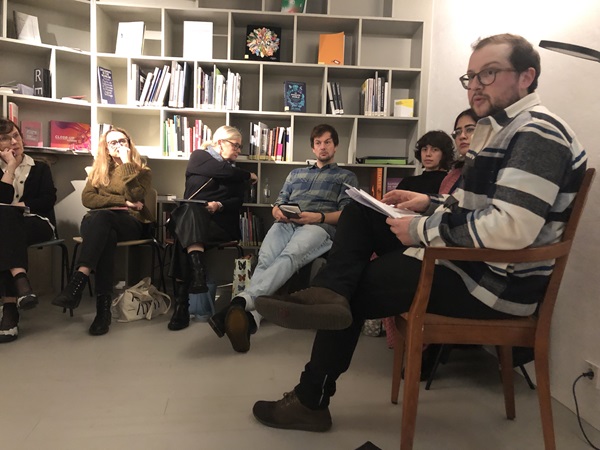 Credit: Otilia Dragan/Chronicle.lu
The first English-language meeting of the new monthly book club organised by Casino Luxembourg took place on the evening of Thursday 16 November 2023.
The meeting focused on China Miéville's fantasy novel The City & The City. Around a dozen people from different backgrounds participated in the discussion presented by Charles Rouleau in the Casino Display room of Casino Luxembourg in Luxembourg-Ville.
The City & the City, written by English writer China Miéville, blends elements of weird fiction with the police procedural genre. The plot follows a sprawling murder investigation set in two coexisting cities, each with a strict prohibition against acknowledging or entering the other. The book was published in 2009 and won awards such as the Locus Award for Best Fantasy Novel, Arthur C. Clarke Award, World Fantasy Award, BSFA Award, and the Kitschies Red Tentacle. It also tied for the 2010 Hugo Award for Best Novel, and was nominated for a Nebula Award and John W. Campbell Memorial Award for Best Science Fiction Novel. In 2018, the BBC aired a four-part television adaptation of the novel.
The City & the City is rather formulaic from the detective novel perspective, but the divide quickly complicates the linear investigative plot. The so-called "Breach" is the most serious crime inhabitants can commit – it refers to noticing or interacting with the other city. An association called Breach lives in the shadow and reinforces the rules in order to keep this balance in place.
In the novel, "unsensing" and "unseeing" have to be learned quickly by all, including children and immigrants. This division and necessary ignoring of the other called to mind cities such as Jerusalem or the divided Berlin. The discussion prompted attendees to talk about their real-life experiences in similarly split environments. The so-called Breach creates a sense of constant paranoia and limits the necessary knowledge that could otherwise be gained. However, the Breach in the book is rather widely accepted and contributes to peace between the cities. The two cities' economies seem to be stagnant and their people's creativity dampened, but peace is their status quo.
The discussions sparked touched on many different concepts. Dehumanisation and othering paired with selective seeing was a big topic during the book club meeting, as were conformism and automation. Attendees also touched upon international law and legal procedures, as well as the impact of historical discourse.

The book club discussion covered a strange, imaginary world. Nevertheless, it brought together people with different histories and backgrounds who could connect through common, real-world experiences and stories of division.