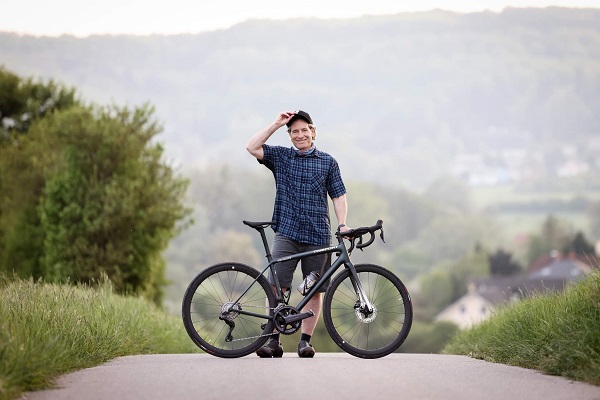 Mike McQuaide, aka An American in Luxembourg; Credit: © Sophie Margue
Chronicle.lu recently had the opportunity to sit down with Mike McQuaide, a US-Luxembourgish influencer widely known as "An American in Luxembourg", to learn about his various adventures and projects in the Grand Duchy, including the upcoming publication of a book sequel.
For those who may be unfamiliar with the project, An American in Luxembourg follows Mike McQuaide, a freelance writer and avid cyclist who moved with his wife and son from Washington State in the United States (US) to Luxembourg City in early 2013. In the US, Mike wrote six guidebooks on outdoor recreation and travel and was the featured outdoors contributor to the travel section of The Seattle Times for twelve years.
Looking back at his arrival in Luxembourg almost a decade ago, Mike explained that he and his family relocated to the Grand Duchy in February 2013 after his wife got a job offer. They initially planned to stay for one or two years but soon came to think of Luxembourg as home. "We loved life here in Europe, especially in Luxembourg", Mike explained. Before the move, Mike, who is originally from New Jersey, had spent 25 years in Washington State. His son, who was fourteen years old when the family moved to the Grand Duchy, has since moved back to the US to "experience life there". But there is no sign of Mike or his wife leaving Luxembourg any time soon. "I love everything here", Mike confirmed, adding that he particularly admired Luxembourg's "spirit of cooperation", both within and beyond the country's borders. He joked that his only complaint about his adopted country was that restaurants did not serve dinner earlier…
Discussing the origins of An American in Luxembourg, Mike explained that he had initially set up a Facebook page to keep his friends and acquaintances in Washington State up to date on his new life in Luxembourg. Soon, his followers were composed of predominantly Luxembourgish nationals and residents, who were drawn to his enthusiastic attitude to the Grand Duchy and his mantra of "discover and share". Recently, Mike has been posting more video content on social media (Facebook, Instagram and TikTok), from documenting his cycling adventures and his trips abroad to sharing humorous clips about life in Luxembourg and learning the language (some of the videos are even in Luxembourgish). He explained that these videos, particularly the latter, take a lot of time but he enjoys making them. "It's another way of telling a story and hoping to land a few laughs", he said.
First book
In autumn 2017, Mike published his first book, aptly titled An American in Luxembourg, which went on to win the 2018 Publikumspräis. When asked about his inspiration for the book, he said: "I'd always wanted to write a real book, something people wanted to read to be entertained". He added that he was inspired in part by the work of American humourist David Sedaris.
Having already written several humour essays for Luxemburger Wort at that time, Mike accepted the opportunity of putting together a series of existing and new essays in a book to be published by Editions Saint-Paul. "I was really happy with the way it came out", he said, particularly praising the contribution of the book's graphic designer, who will likely work on the upcoming sequel as well – more on this later.
Regarding the writing process, Mike explained that he began by looking at how many essays he already had and "what would fill it out in a nice way", for instance experiences and subjects which he had not previously shared or covered in his newspaper essays.
Upcoming sequel
In late July 2022, Mike announced on social media that he had secured a new book deal, this time with Ernster Editions, putting out humorous (but yet-to-be-confirmed) title suggestions such as An American Still in Luxembourg, An American in Luxembourg Tutu and Wombats and other Critters Found near Schlindermanderscheid. Mike confirmed to Chronicle.lu that he has already written about one-third of the sequel, which includes brand new material and is expected to hit bookshelves next summer. He said that he was particularly pleased to be able to work on this occasion with Ernster, "a local bookstore that goes back generations". He was put in contact with the publisher by the graphic designer from his first book. Mike added that he was looking for ways of potentially tapping into his video content and tying this in with the new book. As was the case with An American in Luxembourg, he plans to do various readings and appearances when the sequel comes out.
Mike admitted that he was initially unsure whether to write a sequel since he had already fulfilled his goal of writing a book. Whilst the first book focused on his experiences as "a fish out of water", an adult man having recently arrived and trying to navigate life in a new, multilingual environment, this new book will draw on what he has learned over the past five years, during which time he has become "more of an expert" on the Grand Duchy. "Then, I was a newbie, a 'greenhorn' as they say in Alaska. Now I am a Luxembourg 'sourdough'", he joked, referring to colloquial terms for newcomers and people having spent a longer time, respectively, in Alaska.
Mike added that the new book would include some content related to Luxembourg's not-so-distant past, namely the Second World War and Nazi occupation. Without wanting to dwell too much on this somber past, he recalled that this was "a big part of Luxembourg", referring to the many commemorative statues and plaques that are scattered around the country. He also expressed his admiration for Luxembourg in moving away from (without forgetting) its past and being able to have such strong relations today with its neighbour and former occupier: Germany. He said that this gave him "hope that wherever there is divisiveness, it is not permanent", referring in particular to current divisions in the US but noting that this message also applied more generally.
Guided tours and cycling trails
During his time living in Luxembourg, Mike has become a sort of "unofficial ambassador" for the country and is often asked to lead guided tours, for example for the Luxembourg City Tourist Office (LCTO), and record videos promoting certain places or products in the Grand Duchy. Mike noted that the COVID-19 pandemic had resulted in an increased number of such requests, for instance from tourist agencies asking him to complete and record videos of various trails. In the past, he has also taken part in the "Guide For One Day" initiative which offers newcomers and other interested individuals an opportunity to (re)discover interesting and perhaps lesser known places in Luxembourg.
A keen cyclist for many years, Mike described the Grand Duchy as "a great place to cycle". Compared to the US, "you are allowed to everywhere here", he said, clarifying that there were fewer restrictions or closed-off areas to cyclists in the Grand Duchy. "There is a different ethos that is conducive to hiking, biking, walking, running", he noted. Cycling has also helped him integrate more quickly into Luxembourgish society; shortly after arriving in Luxembourg almost ten years ago, Mike began cycling with one Luxembourger, who then introduced him to his fellow Luxembourgish cyclist friends. Mike has also taken part in big cycling events such as the Schleck Gran Fondo road race in Mondorf-les-Bains, where people (often newcomers to Luxembourg) have come up to him to say they enjoyed reading his (first) book and found it useful. "I love meeting people that way", Mike said, adding that such moments make him feel like the book has a purpose. "It's not just a vanity piece!", he quipped. "Other people are reading it and getting something from you".