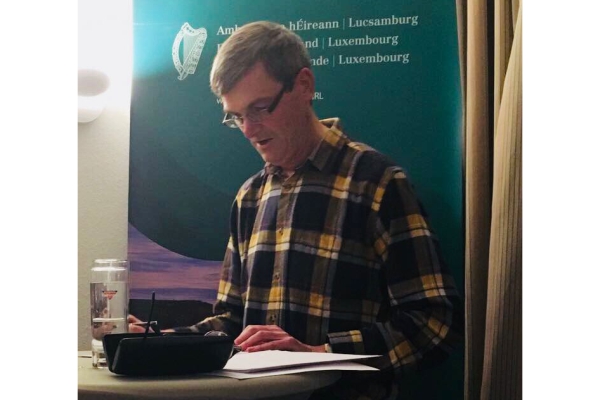 Terry Adams; Credit: Terry Adams
Chronicle.lu caught up with local author and poet Terry Adams, who will be giving a poetry reading at the Auditorium Henri Beck at City Library (Cité Bibliothèque) on Tuesday 24 May 2022 from 18:30.
Chronicle.lu: Your latest prose and poetry and prose reading is taking place on 24 May as part of the city library's "Literary of Tuesdays". Chronicle.lu has covered a number of book-readings of yours over the years, mainly in the former Chapter1 bookshop, but also in Sierck-les-Bains in 2017, with "Paddy Alone", "Verdun to the Somme", etc.. Please tell us about the inspiration that helped form your latest poetry and prose; was it at least partly linked with the lockdown during the pandemic?
Terry Adams : I was ill in early 2018 and have not been as productive since as before. Normally I produce a book every two years or so but I have not published one since 2017. I have about thirty-five poems written over this time span, half a book! At the back of my mind I hope this reading in the CIté library will spur on my creativity once again. I have written only one poem, Leaving Alone, about the pandemic. It was published in the Centre National de Littérature book, Fundsstucker - Trouvailles, in 2020. I was proud to see it was the very first page of the 460 page volume, maybe someone snuck it in there at the last minute!

Chronicle.lu: For your readings, including this upcoming one, you often include live Irish music as part of the evening. How important is this to you, linking Irish music (and song) with your writings?
Terry Adams: I feel they blend together very well. The format I use is for the musicians to play at the halfway mark and again at the end. Not only does this give me a break from talking but also gives the audience a break from listening! Most Irish people enjoy our traditional music and non-Irish get a little exposure to our beautiful tunes which are such a very important part of our culture.

Do you sing and play music yourself? Have you ever written lyrics to be sung?
Terry Adams: I enjoy singing, always have and always will. For many years I was part of the traditional Irish music scene here in Luxembourg. I play the bodhrán, a celtic drum, and get great satisfaction being able to join in with the instrumental playing of the 'real' musicians. I don't attend the sessions so much nowadays but know when and where they are so the opportunity is always there. As for 'lyrics to be sung', my friend John Sweeney kindly put two of my poems to music way back in the nineties and I managed to wed one of my poems to music. Three songs out of three hundred and fifty poems is not very significant.

Chronicle.lu: Your writings have a very Irish flavour to them; we know that you came to Luxembourg around 30 years ago: do you feel that you need to return to Ireland, or does it help to return to Ireland, to gain new inspiration for your writing?
Terry Adams: I return to Ireland at least once a year, COVID-19 permitting. Not so much for my writing but just to try and keep in contact with people. I still feel very attached to my home town, Tullamore, and make a big effort to meet up with family and old friends when I'm there. I tend to write from memory, often about my home town, my family and friends. Most of my inspiration is from older times but I suppose I also get inspiration when I return and experience new 'memories'.

Chronicle.lu: Are your writings inspired by family situations, what you are reading or possibly by what your hear / read in the news?
Terry Adams: Yes, family and friends provide a huge inspiration to me. It could be that living abroad I try harder to remember them and old times. Other topics also intrude, for example in my last book, Verdun to the Somme, sixty pages were devoted to War/Peace, Social and Mind poems. The remaining fifty-four pages were the old relaibles, family and friends. I often think that Iam finished writing about this or that person and it does not turn out that way. I started writing after my Dad died in 1976 and in every book there are poems for him. Every time I let out a sad sigh and say 'that's Dad taken care of' but this always proves false and new remembrances crop up and there he is in the next book!
I don't believe there is a huge connection between my reading and my writing but I'm sure an influence does flow from one to the other. Social poems often are sparked by current affairs.

Chronicle.lu: Please tell us about what your next writing project could be about.
Terry Adams: As I mentioned above I continue to write poems and some prose. There is always the hope I will get back to writing more and ease up to another book, whether prose or poetry. Lately, I have spent time revising and, hopefully, improving on my Paddy Alone book which I had out in 2016. This was, by far, my best received book. I have an ambition to get it officially published. Up to now I always get two hundred copies of my books printed and sell them myself, half here and half back in Tullamore. So, maybe, it is time to step up to officially publishing one.