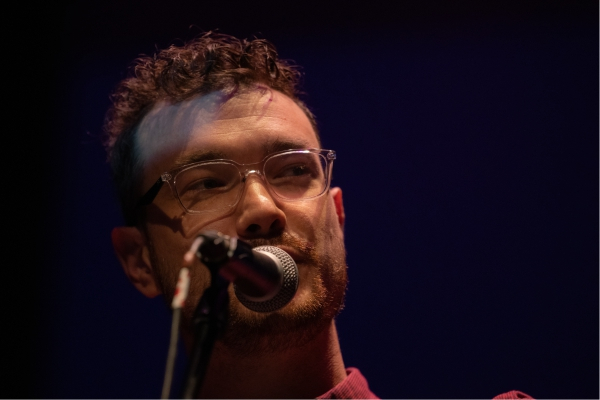 Portrait Neimad; Credit: IPW
The Institut Pierre Werner together with the Rotondes, Coopérations Wiltz, Géisskan Kollektiv, the Austrian Embassy, the Belgian Embassy and Wallonie-Bruxelles International, are jointly hosting and presenting the Poetry Slam de Lux '12 this year.
The eight German or French-speaking slam poets will compete against each other on 1 and 2 April 2022, coming from Germany, France, Austria, Belgium, Luxembourg and for the first time, from Quebec.
The participating competitors are:
Marie Darah, European poetry slam champion;
Neimad, French slam champion;
Philipp Herold, two-time German runner-up;
Elif Duygu, Austrian U20 winner;
Lem, winner of the poetry slam championships in Quebec; and
members of the Luxembourg Géisskan collective.
The evenings will be moderated by Bob Reinert and Philippe Schockweiler.
In the run-up to the Poetry Slam de Lux, Philipp Herold will visit the Lycée des Arts et Métiers, Sportlycée and Lycée classique de Diekirch on the initiative of the Pierre Werner Institute. There he will show the students how to write your own texts and how to best present them on stage.
The audience will decide who will win the Poetry Slam in Luxembourg this year. After Austria won the previous Poetry Slam, the local artists from the Géisskan Kollektiv want to recapture the title with their poetic texts and stage performances.
Poetry Slam de Lux' 12 Dates:
Friday 1 April 2022 @ 20:00, Rotondes, Place des Rotondes, Luxembourg (Tickets via www.rotondes.lu; €5 (U26) or €12)
Saturday 2 April 2022 @ 20:00, Brandbau, 2 Gruberbeerig, Wiltz (Tickets via www.prabbeli.lu; €7 (U26) or €14)
Further information available online at: https://www.ipw.lu/poetry-slam-de-lux-12/