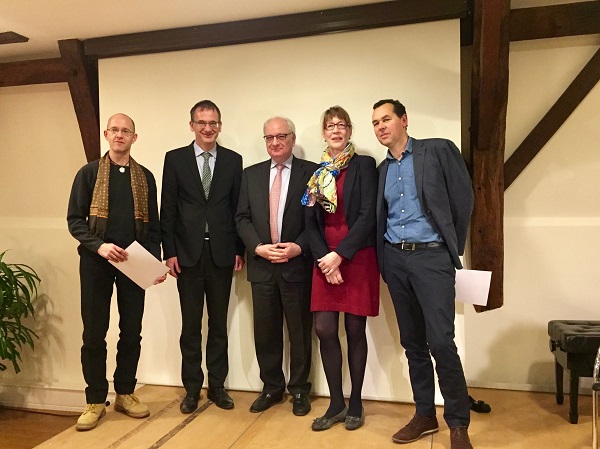 English teacher James Leader picked up his second Luxembourg national literary prize last Tuesday evening at a ceremony held at the National Centre for Literature in Mersch, attended by Luxembourg's Secretary of State for Culture, Guy Arendt, and the British Ambassador to Luxembourg, John Marshall.
Prizes were awarded this year for works created for children and young adults, across different langauge categories (Luxembourgish, German, French and English). Leader took first prize for his novel "The Venus Trap" written for 16 to 18-year-olds, while Bernd Marcel Gonner won the first prize for children's literature (in German) for his novel Pirat, Oder Seeräuber Sterben Nie (Pirates Never Die). The prizes were presented by jury president, Nicole Sahl, and include an award of €5,000 plus €1,000 to cover the costs of a promotional tour if the books are published within 18 months.

This is Leader's third novel and, in a clever, playful and lyrical style, recounts the escapades of the eponymous Venus, a poet on a mission to topple capitalism in concert with a Marxist philosophy professor, all under the devoted eye of the story's narrator, Thibault, who is hopelessly in love with her. Venus's own creator is somewhat smitten too.
"She's very funny, very sassy and very opinionated," said Leader describing how he misses her and her co-heroes while out on his morning runs. "I do all my writing in my head when I'm running in the woods. And then they start talking to me and I record it on a device and then write it up when I get back. I love them, and now they're gone," explained Leader, looking somewhat bereft.
The novel's anti-capitalist theme continues Leader's method of working through the things that bug him by writing about them. His first novel "Chickendance" tackles pacifism, while his second, The Mysteries of Gogos, takes a look at the alternatives to the monotheist religions that define the modern Western world.
"The themes are all to do with subjects that I've been worrying at like a dog with a bone," said Leader. "Like, is it right to die for your country? Is it right to just accept monotheism, or is there an alternative to these terrible religions we have. Or, is there an alternative to capitalism?"
And working through the ideas that come up through the writing process is as enlightening for Leader himself as it may be for his readers. "I go around these problems for two or three years, and then I change my mind completely and I love it," he said.
"[The Venus Zone] made me much more nuanced on capitalism, for example. as I was writing the big climactic scene at the end, I realised that in fact I had been a little bit too simplistic in my thinking," said Leader.
Despite the seemingly difficult and negative themes, Leader aims to keep a positive tilt to his works, which is why he writes for a younger market. The European School teacher and father of two has been working with teenage students over the course of a 20-year career, and they've clearly left their mark.
"They're fun, interesting and intellectually alive. They still have a bit of hope, and I love that. I can't conceive of spending the number of hours you have to spend on a novel if it's going to turn out to be something despairing, nihilistic and hopeless, and a lot of adult fiction is like that. I'd rather write nothing than write that."
He's also thrilled to receive this recognition from his adopted country, Luxembourg. "I'm British by birth, American by marriage, and Luxembourgish by choice," said Leader who took Luxembourgish nationality two years ago — as something of a defiant joke at the then improbable prospect of Brexit.
"Two of my three countries have messed up monumentally this year. So to have Luxembourg welcome me so strongly, that's been really special."
Luxembourgish literature covers works created by Luxembourg nationals or those resident in Luxembourg. The canon, which is formally dated back to 1821 and the publication of the first poem in Luxembourgish, has traditionally found its expression through works in French, German and Luxembourgish. But it has been added to in recent years by more and more literature written in English.
In his welcoming address, Dr Claude Conter, director of the National Centre for Literature, noted how children's and young adults' fiction occupies an important and growing segment of global literary fiction output, a great deal of which is successfully translated into Luxembourgish, helping to educate and integrate Luxembourgish and foreign students alike. However, he was anxious that such a crowded international field could squeeze out literature produced in Luxembourg or by Luxembourgers, and hoped that awards such as this would send a message to editors that they have a role to play in keeping the genre alive.
Leader is still looking for a publisher for The Venus Zone.
Photo by Nicky Sullivan (L-R): Bernd Marcel Gonner; British Ambassador to Luxembourg, John Marshall; Secretary of State for Culture, Guy Arendt; Nicole Sahl; James Leader