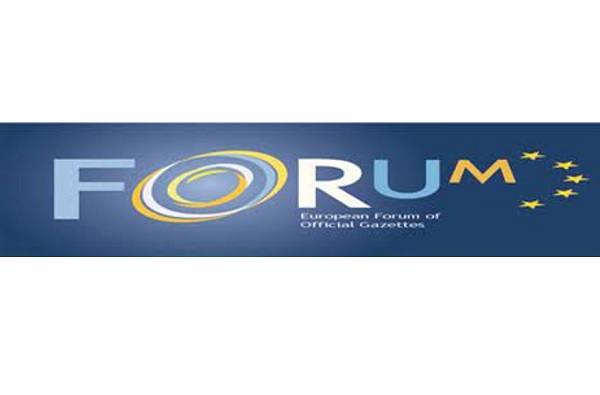 The 18th edition of the European Forum of Official Gazettes took place at Neumünster Abbey in Luxembourg-Grund from 22 to 24 September 2022.
The event was hosted by Luxembourg's Ministry of State − Central Service for Legislation (Service central de législation - SCL), which publishes the Official Journal of the Grand Duchy of Luxembourg. The Forum is the network of official publishers in Europe. Its aim is to exchange best practices in facilitating access to law.
Participants at the Forum were welcomed by Marc Hansen, Luxembourg's Minister for Relations with the Parliament, Minister for the Civil Service, Minister Delegate for Digitalisation and Minister Delegate for Administrative Reform. Minister Hansen stated: "Legislation is no longer exclusively researched and read by lawyers, but also by a wide range of others interested in the subject. Digitalisation has also arrived in the legal world, which is a very traditional area, and is at the crossroads of tradition and modernity".
The Director of the SCL, John Dann, 2022-23 Chair of the Forum and Chair of the European Legislation Identifier (ELI) Task Force, added: "The essence of the Forum is to share experiences, ideas and learn from each other. We all want to provide better access to legislation, let's be creative and work together for our common goal − easy access to legislation".
The Director-General of the Publications Office of the European Union, Hilde Hardeman, opened the session with a presentation on the Digital European Legal Space. She stressed official publishers' key role in upholding the rule of law: "The rule of law is at the very core of the values on which the European Union, our national systems and our societies are based. All of us present here today are contributing, in one way or another, to turning the rule of law into practice".
In two days of intensive discussions, the Forum addressed topical subjects such as: the adoption of common solutions through collaborative projects; challenges related to transparency, access to information and data protection; the use of artificial intelligence to facilitate access to legislation; drafting legislation so that it can be easily understood and accessed; the importance of standardisation through controlled vocabularies; achieving act-by-act publishing. Experts from the National Library of Luxembourg (Bibliothèque nationale du Luxembourg - BnL) and the University of Luxembourg provided contributions to the discussion on these topics.
Information sharing among official publishers will continue in the months ahead, with a view to the next plenary meeting of the Forum, which will take place in Berlin in September 2023 under German chairmanship.