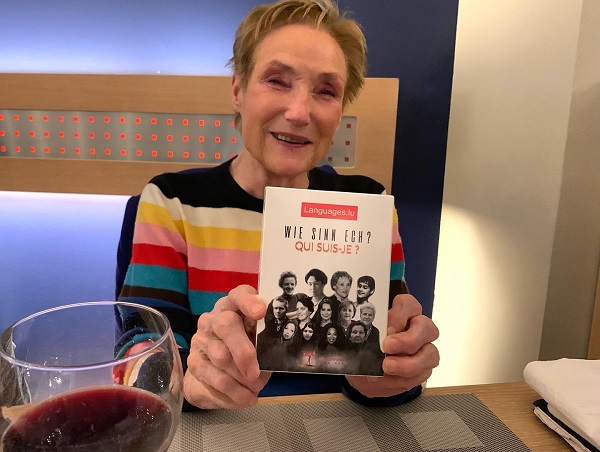 (Above) Luxembourgish politician Erna Hennicot-Schoepges holds a copy of the new "Wie sinn ech?" game, in which her profile is featured; (below) Daniela Clara Moraru, Founder & CEO of Languages.lu; Credit: Languages.lu
Languages.lu, a local language school founded in 2004 by Daniela Clara Moraru, launched a special edition of its educational game "Wie sinn ech?" (Who am I?) earlier this month, around International Women's Day.
Inspired by the traditional game where players have the name of a famous person stuck to their forehead and have to guess who they are, the original "Wie sinn ech?" game launched in 2016 and included the profiles of 55 men and women who had made noteworthy achievements in various fields. This special edition features 55 inspiring women from Luxembourg and abroad.
Speaking to Chronicle.lu, Daniela Clara Moraru, Founder and CEO of Languages.lu, shared her inspiration for this new edition, her selection process (i.e. which women to include in the game) and her advice for fellow female entrepreneurs.
Ms Moraru explained that the original idea came from the aforementioned game which teachers played with children in language camps, run by Languages.lu since 2004. She decided to adapt this game "for the purpose of practising Luxembourgish", since there was a lack of language learning materials available at that time. For "Wie sinn ech?", she reversed the game process; players first read the description on their card and then guess to whom it corresponds. The descriptions are written with A1 (beginners' level) learners in mind, with the game (both the original and the women's editions) available in two versions: Luxembourgish to French and Luxembourgish to English. The cards are accompanied by audio files to help with pronunciation.
The original "Wie sinn ech?" game proved successful. However, Languages.lu lost most of its stock in the July 2021 floods and had to create new learning materials. Daniela Clara Moraru made the best of this challenging situation by deciding to launch a new special edition combining her passion for languages with her long-time interest in women's issues. As such, she decided to "do something special this year" to both raise the visibility of issues such as gender inequality and to highlight the achievements of inspiring women.
Regarding the selection process, she first looked only at women in Luxembourg but ultimately opted for a mix of Luxembourgish and non-Luxembourgish women who "fought for our rights [and] did amazing things". The selection was "not easy" and she made the decision to feature only women who had already achieved great things after a long career, rather than those women who were still building their careers, to narrow down the selection. As such, most of the women included in the game are no longer alive; others are about to retire. Ms Moraru also aimed to feature a diverse range of profiles, including well-known inspiring women and others whose achievements are perhaps less known. At the end of the day, "Wie sinn ech?" is an educational game, so players "don't need to know everyone". The game is aimed at adults but also teenagers - some secondary schools in Luxembourg have already bought it to play with their students.
Whilst Ms Moraru was responsible for most of the profile selection, she also wanted the process to be collaborative. As such, she reached out to the community via social media for ideas and received different suggestions - most of which simply confirmed she had already made the right choices.
When asked about the origins and development of Languages.lu, Daniela Clara Moraru explained that she had first created the company in the United Kingdom before setting up a branch in Luxembourg due to the "difficulty of starting [a business] in Luxembourg" in the early 2000s. She also discussed the challenges of renting a first office space in Luxembourg. She started small. "I didn't want to grow too fast, too big", she noted, adding that instead she wanted to get to know her clients and build relationships with them. "We have a unique marketing strategy: we invest in and create content", she continued.
The experienced entrepreneur also stressed the importance of sharing one's "little failures", citing two examples in the context of Languages.lu. In 2004, Languages.lu was the first language school to market an online Luxembourgish language course. However, due to general language learning preferences at that time - people preferred to learn face-to-face - the course was not profitable. "It was a good product, it was just too early", she said, adding that the course was stopped a few years later. Similarly, Languages.lu launched a language learning mobile application to accompany its popular "365 Days Luxembourgish" product. The app covered the entire A1 level and brought in more than 5,000 clients. However, most of them used the free version of the app and it ended up costing significantly more (money, but also time and energy) than it was bringing in. "There was no way to break even", she noted. Despite its lack of profitability, Ms Moraru said she did not regret launching the app (which she shut down around two years ago), since she had never worked with one before and was "intellectually curious to try it". She recognised that it was difficult as an entrepreneur to let a project die, but was thankful that she had different products to offer and on which to focus.
This diverse offer also proved useful during the COVID-19 pandemic, when in-company courses (one of Languages.lu's core businesses) stopped overnight. In fact, these courses still have not resumed as employees continue to work remotely and companies prioritise other areas. Currently, Languages.lu is focusing on children's tutoring. The pandemic also saw the language school start working with the Letzshop online sales platform, which "opened a whole new market" since the platform has customers from across Luxembourg, but also from France, Belgium, Germany and the Netherlands.
When asked what advice she would give budding female entrepreneurs in Luxembourg, Daniela Clara Moraru said: "The earlier one starts, the better". She elaborated: "If one has five to ten years of professional experience and has a project, start". She recognised the importance of thinking about the complexity of a project first and talking to others who have been on the same journey, but advised against "think[ing] too long" and "miss[ing] the moment".
Whilst the special women's edition of "Wie sinn ech?" launched in time for International Women's Day this year, Ms Moraru recalled that "we don't have to celebrate women just on 8 March. It is something to do on a regular basis". She added that more action was needed to tackle gender inequality, rather than just talking about it.
The original and special editions of "Wie sinn ech?" are currently available exclusively on letzshop.lu. Further details are available at: https://www.languages.lu/learning-materials.