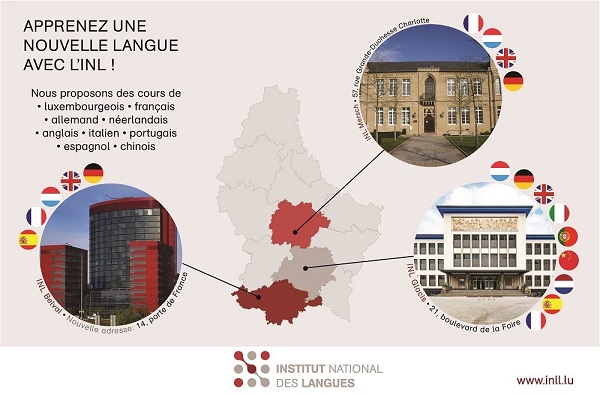 Credit: INL
Tuesday 22 February 2022 marked the start of the new academic year for almost 6,700 language learners at Luxembourg's Institut National des Langues (INL).
For the spring semester, the INL is offering more than 490 language courses for adults across its three sites: INL Glacis in Luxembourg-Limpertsberg, INL Belval (on the site of the University of Luxembourg in Esch-Belval) and INL Mersch.
The languages ​​taught are German, English, Chinese, Spanish, French, Italian, Luxembourgish, Dutch and Portuguese. While Luxembourgish and French are the flagship languages, the INL, with a view to linguistic diversity, promotes the learning of other languages.
INL courses are accessible to all adults, and there are still places in all language courses. In order to register, candidates must take an online test and orientation interview which allows them to be placed in a class of their level. These interviews are possible throughout the school year. Registration and appointment bookings can be made at myinl.inll.lu.
The start of the spring semester at the INL is accompanied by several major projects:
Intensive professional courses: To meet its mission of inclusion and integration, the INL is continuing its collaboration on the "intensive courses for professional purpose" project with the ADEM unemployment agency. The project aims to facilitate the employability of job seekers in four areas: commerce, construction, hospitality and cleaning. These specific French-language courses are now offered at all three INL sites. Vocational courses in German and English will follow next semester.
Luxembourgish e-learning for all: A group of Luxembourgish teachers from the INL are developing, together with Luxembourg's Ministry of Education, Children and Youth and accompanied by external experts, an e-learning platform for the Luxembourgish language. This platform will be accessible free of charge for anyone wishing to learn Luxembourgish. Its launch is scheduled for the start of the 2022-23 school year.
Luxembourgish textbooks: The "Schwätzt Dir Lëtzebuergesch?" textbooks for A1, A2 and B1 levels, already sold in more than 66,000 units, added the B2 level competency. The B2 level textbook will soon be accessible free of charge at sdl.inll.lu website in the form of learning files by specific themes. These files will be continually adapted and supplemented to cover all the objectives of B2 level as defined in the Common European Framework of Reference for Languages ​​(CECR).
IELTS test: The IELTS test, the most renowned English test in the world, is now organised fully in digital form. More information as well as the dates of the next sessions for all national and international exams organised at the INL can be found on the website www.inll.lu under the certifications section.