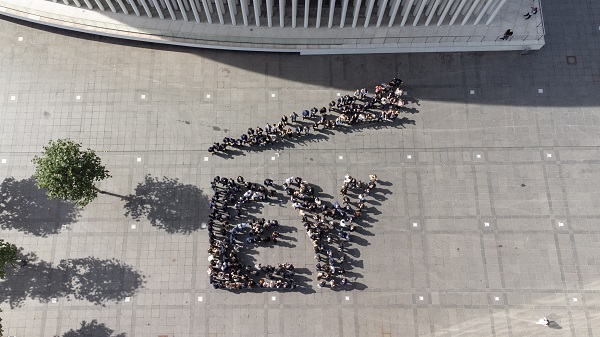 Credit: EY Luxembourg
On Monday 18 September 2023, EY Luxembourg announced it has brought onboard 350 new professionals of over 30 different nationalities due to integrate its ranks by October; the company confirmed it recently surpassed the milestone of 2,000 employees.
Experienced professionals and young graduates alike were welcomed during an integration day which took place on Friday 15 September 2023 in Luxembourg-Kirchberg. Presentations, workshops and discussion panels with the firm's leaders were on the day's agenda. According to EY Luxembourg, the occasion provided a platform for the newcomers to connect with their peers who had joined the firm the previous year, thereby creating an exchange of experiences and insights. Furthermore, the event marked the start of a training and onboarding period which will be provided to the new employees in the fields of assurance, consulting, tax, strategy and transactions and core business services over the next weeks.
"I am thrilled to announce this robust onboarding this year again, reflecting our ongoing growth, our ability to adapt in the face of challenges, and our allure for young professionals seeking an innovative work environment enriched with substantial learning prospects. As the new additions to our multidisciplinary teams embark on their journey with us, I wish for them to discover that passion is a key ingredient for professional growth. While we are a sector-focused company, it is part of our mission to expose them to a diverse range of sectors, allowing them to explore and eventually choose the one that ignites their passion the most. To all our new recruits, I extend my best wishes for the journey ahead, and a warm welcome to EY!" said Olivier Coekelbergs, Country Managing Partner of the firm.
Adriana Boixados, the firm's People Leader, commented: "When individuals join EY, they become part of a united team. We place immense importance on fostering a sense of belonging, and building strong, diverse teams across borders and industries. Our core value proposition is rooted in the strength of integrated teams, ensuring no one walks alone in providing exceptional service to our clients. We also believe in the power of purpose-driven individuals. Our approach is to cultivate their sense of purpose, guiding their career with exciting missions, robust training, continuous growth opportunities, expert coaching, internal projects and celebratory events. Today, we encourage our newcomers to embrace the journey ahead, with our unwavering support in defining their professional purpose."
On this occasion, EY Luxembourg also announced the appointment of a new Leader for the Technology, Media and Telecommunications practice, Anthony Cannella, replacing Fernando Longares in this role.
For the past few years, Anthony coordinated audit teams in several international EY offices for multi-location audits, advising engagement teams on technical matters and building strong relationships throughout the firm's global organisation. He is also the leader of EYnovation, EY Luxembourg's programme supporting startups and entrepreneurs. He will be working closely with a local team of 120 professionals, backed by a global network of over 55,000 professionals.