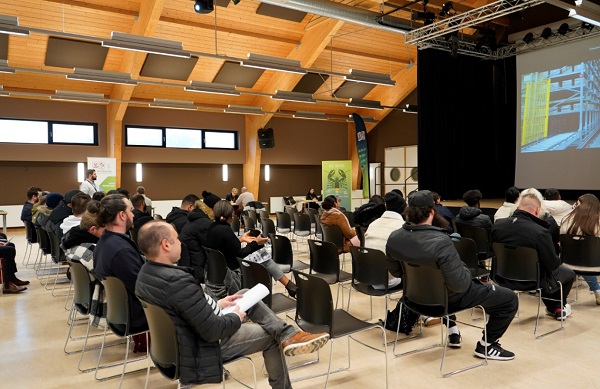 ADEM Jobday 2023 at La Provencale; Credit: ADEM
On Wednesday 25 January 2023, Luxembourg's Employment Agency (ADEM) organised a Jobday dedicated solely to the food wholesaler La Provençale, at the Cultural Centere of Leudelange, in collaboration with EURES, a European cooperation network of employment services.
This Jobday was the first offered by ADEM and EURES in a hybrid format, and was not restricted to candidates registered with ADEM; it was also unique in that it was the first such Jobday reserved for a single company.
The morning was dedicated exclusively to jobseekers registered with ADEM and invited to the event. In the afternoon, anyone looking for one of the jobs offered by La Provençale, whether registered with ADEM or not, had the opportunity to meet the recruiters of this large Luxembourg company which employs more than 1,500 people, across a wide range of professions.
According to the director of ADEM, Isabelle Schlesser, "this event bears witness to our ADEM 2025 strategy aimed at combining, on the one hand, the advantages of direct meetings between job seekers and recruiters and, on the other hand, opportunities offered by new digital technologies".
Throughout the day, participants also had the opportunity to submit their application online and conduct a remote job interview with a human resources employee from La Provençale. This digital option was available through the workinluxembourg.lu platform managed by EURES Luxembourg.
In all, more than 500 candidates took part in the event, by presenting themselves on the spot or by talking online with La Provençale recruiters. For Lolita Maginot, one of the Provençale recruitment officers, "this formula is very effective, because it allows us to meet a large number of candidates in a single day, some of whom are selected by ADEM and as close as possible to our needs. In addition, the EURES digital platform offers the possibility of extending our searches even beyond the Greater Region, for rarer profiles who would not necessarily have travelled".
14 professions were sought by La Provençale, in areas ranging from administration to IT, including, of course, food and transport: Windows systems administrator, recruitment manager, HR Business partner, order picker, butcher's assistant, dock worker, truck mechanic, butcher, truck driver-deliveryman, fishmonger's helper, electromechanical maintenance technician, web developer, helpdesk technician and even security guard.
Minister Georges Engel congratulated the heads of ADEM and La Provençale for this new formula: "I am delighted with the success of this event organised with La Provençale, in a sector that is struggling to find the right profiles. For me as Minister, it is reassuring to note that ADEM is always attentive to the needs of employers and that it innovates to find the best recruitment formulas and to support companies in their labour needs."
In 2023, around 30 JobDays are already planned by ADEM and recruitment workshops, dedicated to one or more employers, are organised throughout the year.