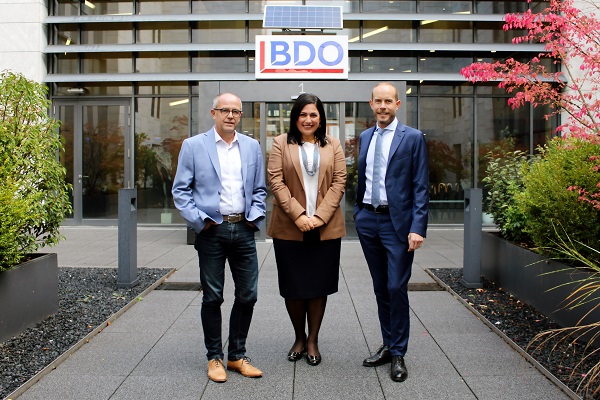 L-R: Eric Bineau; Adina Conner; Jan Brosius; Credit: BDO Luxembourg
Accounting firm BDO Luxembourg has announced the nomination of Eric Bineau, Jan Brosius and Adina Conner as new partners as of 1 October 2022.
As part of BDO Luxembourg's growth strategy, these new partners are expected to lead their teams in providing high-quality services to the firm's clients.
Eric Bineau – BDO Technology: Eric Bineau led IT projects for fifteen years. He joined BDO in Luxembourg in April 2015 where he started to design and market an anti-money laundering / know your customer (AML / KYC) compliance solution. He has since played a leading role in further developing BDO's range of software solutions. Eric will strengthen BDO Luxembourg's technology advisory activity and will be in charge of the development, promotion and marketing of these software solutions.
Jan Brosius – Accounting and Corporate Services: After starting his career at BDO, Jan gained experience as an auditor with another Luxembourg based audit firm, before (re)joining BDO in 2020 in the accounting and corporate services practice, serving small, medium and large-sized Luxembourg-based operational companies. Jan is an expert-comptable and réviseur d'entreprises. His role is to support local companies and entrepreneurs on accounting, reporting and tax-related aspects. He is also involved in the preparation and facilitation of transferring (family) businesses.
Adina Conner – Transfer Pricing: With more than fourteen years of experience in transfer pricing, acquired in three different European jurisdictions, Adina deals with the whole range of transfer pricing services from planning, documentation and compliance to audit defence and support. For the past nine years, she has worked in Luxembourg where she focused on the financial services, asset management, real estate and technology sectors. In her new role, Adina will further develop BDO's transfer pricing services business in Luxembourg and will also be involved within the BDO Global Practice on Financial Transactions.
BDO Luxembourg is one of the leading accounting, audit, payroll, tax and advisory firms in the Grand Duchy. With more than 500 employees, the firm serves over 5,000 clients in multiple business sectors. As a member of BDO's international network, BDO Luxembourg has access to the expertise of more than 95,000 employees who serve clients from 1,713 offices in 164 countries.