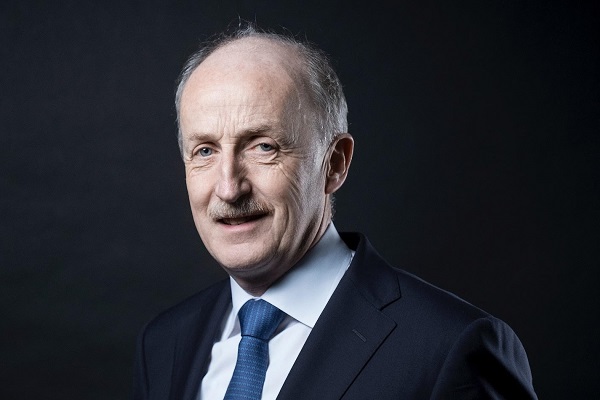 Padraig McCarthy; Credit: Kleos Space SA
Kleos Space S.A., a Luxembourg-based space-powered Radio Frequency Reconnaissance (RF) data-as-a-service (DaaS) company, has appointed international space finance executive Padraig McCarthy as a Non-Executive Director and Chair of the Audit and Risk Management Committee, effective as of 3 November 2021.
Highly experienced, Padraig McCarthy is currently a Partner at the private equity firm NewSpace Capital and an independent Non-Executive Director and Audit Committee Chair at listed self-storage company Shurgard. He brings more than two decades of space industry experience to Kleos, previously serving as Chief Financial Officer (CFO) and member of the Executive Committee at global satellite leader SES, where he raised more than €5 billion to fund the company's growth strategy.
Mr McCarthy has an extensive investor relations and capital markets experience, playing a key role in the SES IPO, its Paris Euro-next secondary listing as well as other equity and debt activities. His industry experience also includes nine years as CFO and Management Committee member of SES Astra and other business and finance leadership positions within SES, whom he served for 23 years.
Commenting on the appointment, Kleos' Chairman, Peter Round, said: "Padraig's wealth of financial, space industry and governance experience further enhances Kleos' Board expertise and will be instrumental as we continue to commercialise our geolocation intelligence data. His appointment aligns with Kleos' best practice governance and regulatory regimes and supports our longer-term transition towards a majority independent Board".
Padraig McCarthy added: "I'm delighted to join Kleos at a pivotal point in the company's journey, as it transitions from its R&D beginnings into a commercial provider of radio frequency geolocation data. Kleos' independent ISR technology has many real-world applications, improving situational awareness for both government and commercial customers. I look forward to leveraging my previous industry and professional experience to assist Kleos as it executes its growth strategy".
Kleos' co-founder Miles Ashcroft, who has recently been appointed Chief Innovation Officer to lead research and product innovation, has stepped down from the Board as an Executive Director in order to facilitate the transition to an independent Board.
Mr Round noted: "Miles made an outstanding contribution to Kleos as a Director and I know the whole Board will join me in thanking him for his service so far, as well as helping us transition to an independent Board".