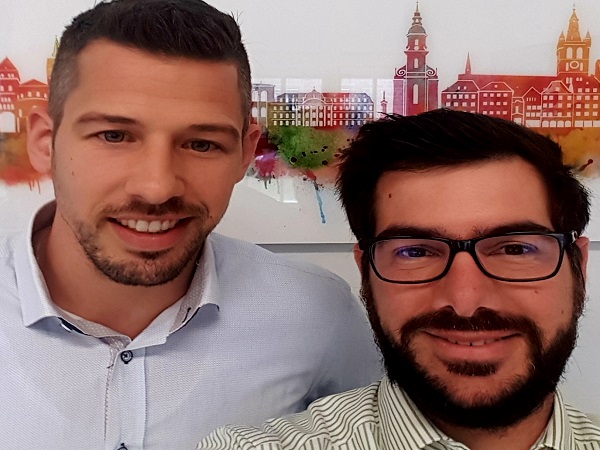 Founders Marcel Grifka and Pascal Schaefer; Credit: JobsEurope
Luxembourg-based startup JobsEurope Sarl has launched a new job portal exclusively dedicated to financial professionals in the Greater Region.
Founded by Pascal Schaefer and Marcel Grifka, financejobs.lu is a job board that aims to help financial experts find their future job in Luxembourg. It prides itself on being the first of its kind in the Greater Region to offer a location-based search and a transparent pricing policy for financial professionals. With its new features, it also aims to reduce the search time for applicants and improve the recruitment process for companies.
Co-founder and CEO of JobsEurope, Pascal Schaefer, commented: "We are very pleased to provide companies and candidates with a tool for a dedicated finance job search. A quicker recruitment process is a win-win situation on both ends – candidates and companies".
Schaefer is an HR expert with 14 years of professional experience in Luxembourg. For his part, co-founder Marcel Grifka hopes to bring his many years of experience to make financejobs.lu the leading job board for financial experts in the Greater Region.
The job board has a green logo and emphasises social responsibility. It follows three non-profit oriented goals: reducing its ecological footprint, contributing to the development of society and sharing its knowledge and helping others to develop themselves.
Initially launched only in English, targeting the international community across the Greater Region, the portal is now also available in French and soon in German. Schaefer added: "Due to the upcoming Brexit, we are increasingly registering page views from the United Kingdom".
In addition to its finance job board, JobsEurope offers HR consulting services around Social Media Recruitment such as SEO & SEA recruitment, Network Recruitment and Employer Branding advice.
The company has its office in Wasserbillig in Luxembourg. For more information, visit www.financejobs.lu.