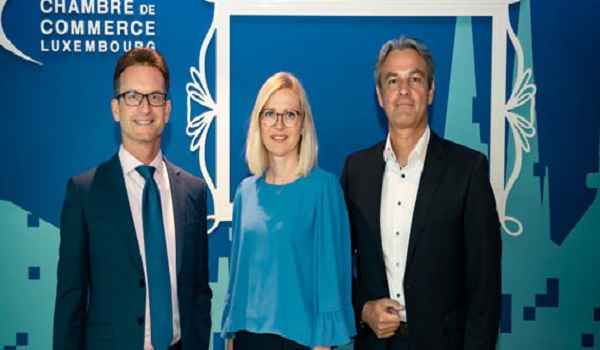 L-R: Carlo Thelen; Cindy Tereba; Jeannot Erpelding; Credit: Chamber of Commerce
The Chamber of Commerce today appointed Cindy Tereba as head of its International Affairs Division; she will be replacing Jeannot Erpelding, who has held this position since June 2014.
After graduating from Heinrich-Heine University and the Academy of Fine Arts in Düsseldorf in Germany, Cindy Tereba made her e-commerce debut in a German startup in 2006. By 2008, she was in charge of international business development at the German Chamber of Commerce and Industry (AHK) in the United Arab Emirates in Abu Dhabi, before joining the Chamber of Commerce in February 2012 to launch its first permanent office in Berlin, in her role as Economic and Commercial Attaché.
With strong international experience and excellent knowledge of Luxembourg's entrepreneurial ecosystem, Cindy Tereba's mission will be to contribute to the internationalisation of companies in the Grand Duchy and to develop economic and commercial exchanges with the support of a network of professional partners in Luxembourg and beyond. In this capacity, Cindy Tereba will also become a new member of the Executive Committee of the Chamber of Commerce, with immediate effect.
On behalf of the Chamber of Commerce, Carlo Thelen, Managing Director, thanked Jeannot Erpelding for his commitment to the responsibilities entrusted to him at the Chamber. He particularly underlined the important work done in recent years, namely the intensification of the international activities, and expressed his support for Mr Erpelding in his new career.
Commenting on Cindy Tereba's appointment, Carlo Thielen said: "We are confident that Cindy is [the] ideal [choice] for continuing the successes of the past and for implementing, with the required dynamics and support of a dedicated and experienced team, the new CC2025 strategy at the international level, to the satisfaction of companies and all the partners of the Chamber of Commerce".
Cindy Tereba commented: "It is with great enthusiasm that I accept this new challenge and I thank the elected members and the management of the Chamber of Commerce for their trust. In close collaboration with the public authorities, our overseas networks and all our partners, we will continue to support and strengthen the internationalisation activities of the Chamber of Commerce for the benefit of companies in the Grand Duchy".