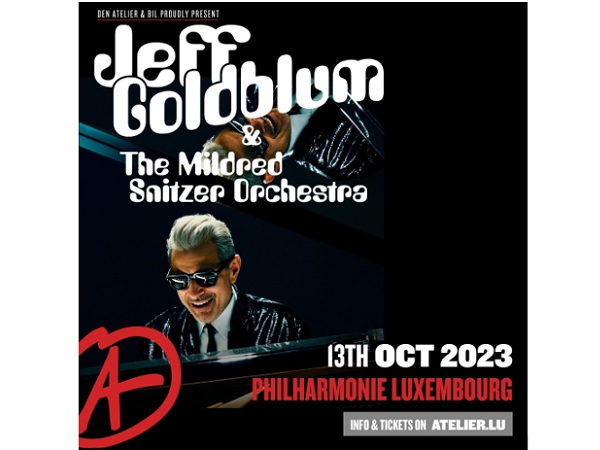 Den Atelier has announced that Jeff Goldblum & The Mildred Snitzer Orchestra will perform a concert at the Philharmonie in Luxembourg-Kirchberg on Friday 13 October 2023 at 20:00.
The Hollywood actor is best known for roles in films such as Jurassic Park, The Fly and Independence Day... He also plays jazz with his band, The Mildred Snitzer Orchestra.
The evening will comprise improvised comedy and classic jazz, silkily played in the company of the Mildred Snitzer Orchestra! A fantastic evening with one of the most fun character actors of his generation and a popular culture icon.
Whether performing regularly in Los Angeles or elsewhere, Goldblum takes questions from the audience, asks trivia questions and plays classic jazz.
This performance will feature Goldblum on piano, John Storie on guitar, Alex Frank on bass, Joe Bagg on organ, James King and Scott Gilman on saxophones and Kenny Elliott on drums.
Jeff and the bands' latest album entitled "Plays Well With Others", was released in March 2023 on Decca Records. This is the band's third record, all on Decca.
Doors open at 19:00.
Tickets from www.atelier.lu Friday 11 August 2023 at 10:00.