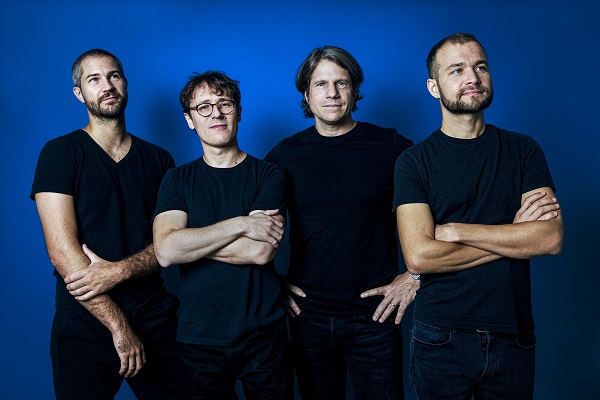 Émile V Schlesser and the jazz trio Reis-Demuth-Wiltgen; Credit: Martine Pinnel
As part of Esch2022 - European Capital of Culture, Luxembourgish multimedia artist Émile V Schlesser and the jazz trio Reis-Demuth-Wiltgen are presenting an immersive audiovisual jazz experience: Synaesthesia.
From Friday 25 to Sunday 27 November 2022, visitors have the opportunity to become part of an immersive jazz event organised by Esch2022 at the Opderschmelz cultural centre in Dudelange. The live experience features a holographic 360-degree video projection and takes its audience on a musical and visual journey that is designed to stimulate all the senses.
During their live performance, the four artists will perform a crossover between multiple art forms by translating music into colours, shapes and movements. The result will be an audiovisual experience that feels like a combination of a concert, an art installation and a film projection, but is in fact none of the three.
The jazz compositions that have been specially conceived for this show will merge with the computer-generated visual environments of Émile V Schlesser. The images and sounds interac with and react to each other in real time, creating a multi-sensory symbiosis. In order to put the illusion at the centre of attention, the performers themselves remain hidden for the most part, pulling the strings from behind the scenes. Émile V Schlesser and Reis-Demuth-Wiltgen will only appear in the form of holograms inviting visitors to experience the so-called synaesthesia of sounds and colours.
The most important aspect for the four artists is the shared sensory experience. It is supposed to feel like a great collective trip where the audience is completely absorbed in this immersive environment, while the space around them is constantly changing.
In addition to performances held on Friday evening, upcoming performances are scheduled on Saturday at 18:00, 20:00 and 22:00 and on Sunday at 16:00, 18:00 and 20:00.