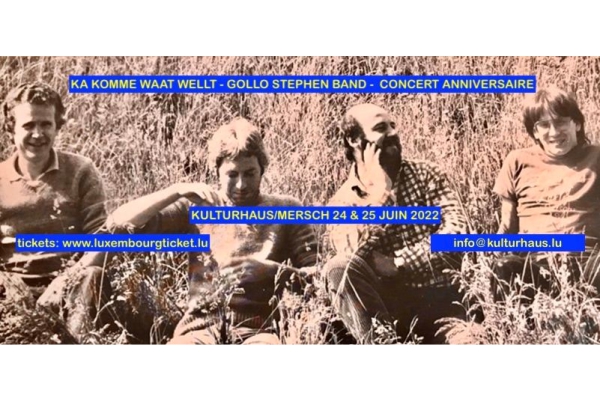 Credit: Mierscher Kulturhaus
On Friday 24 and Saturday 25 June 2022, the Mierscher Kulturhaus in Mersch will host two concerts to celebrate the 40th anniversary of the albulm "Ka komme wat wëllt" ("whatever happens").
The album "Ka komme wat wëllt", performed and produced by the Robert Stephen Band in 1982, was recorded at the "Gemeisbuttek" in Wiltz.
The Robert Stephen Band will be on stage in its original formation - Gollo Steffen on vocals and guitar, Michel Bontemps on bass, Mil Garofalo on guitar and Roger Hamen on drums – and will be accompanied by well-known and recognised artists from the Luxembourg scene, including Claudine Muno, Thierry Kinsch, Daniel Balthasar and Serge Tonnar.
The Band, accompanied by musician friends, will perform a large number of signature pieces such as: Ka komme wat wëllt, Amerika läit just viroan Ëlwen, Véier Wochen, Just e Clown, Wann s du nik weess wat lo man or Flemms Blues.
The concerts on 24 and 25 June 2022, starts at 20:00 at Mierscher Kulturhaus, 53 Rue G.-D. Charlotte L-7520 Mersch. Tickets cost €26, €13 (student) or €1.50 with a Kulturpass, and can be purchased online at: www.luxembourg-ticket.lu.