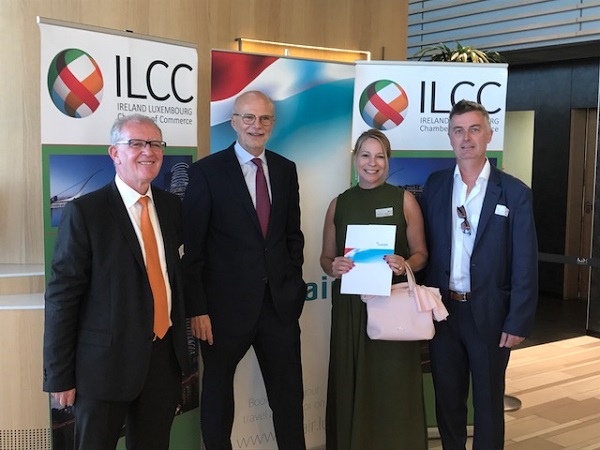 On Wednesday evening, the Ireland Luxembourg Chamber of Commerce (ILCC) held its 5th anniversary celebrations at the Oberweis restaurant on the 1st floor of Lux-Airport.
Joe Huggard, ILCC Chairman, addressed the 50+ members attending and stated that Ireland and Luxembourg are similar countries and have similar economies. He explained that the ILCC focuses on its members and has a very good record of attracting international speakers to address the chamber across a range of topics.
Those attending included the CEO of Luxair, Adrien Ney, the CEO of Lux-Airport, Johan Vanneste, and the Ambassador of Ireland to Luxembourg, Peadar Carpenter.
Luxair's CEO, Adrien Ney, spoke and confirmed details of how the airline is increasing capacity on the Luxembourg-Dublin route. Historically the airline flew the route from 1998 until 2012, via Manchester, and then started to fly directly from 2014. From an initial annual passenger total of 18,000, this number is now around 40,000, with a load factor of 80%.
Due to increased interest in the route, the airline has decided to increase capacity between mid-September and the end of October, offering an evening flight on week-days, bringing the number of weekly flights from 6 to 11. From Novermber to March, the week-day lunchtime flight will be replaced by the evening flight, with the summer schedule from April again offering 11 flights/week. He explained that the limitation of additional flights was coming from dublin airport, not from Luxembourg airport.
He stated that he is very happy to be in this environment with the Irish Chamber and its members, which he described as friendly and positive. He said that he has always believed in the Irish market and if delighted to be able to offer increased capacity next year.
Bringing the formal part of the evening to a close, Joe Huggard invited Adrien Ney to draw a name from the list of members attending. Sam O'Dea was the lucky winner of 2 free return tickets to Dublin with Luxair.
The event concluded with a networking reception.
Photo (top, L-R): Joe Huggard, ILCC Chairman; Adrien Ney, CEO Luxair; Sam O'Dea (winner); Tom O'Dea