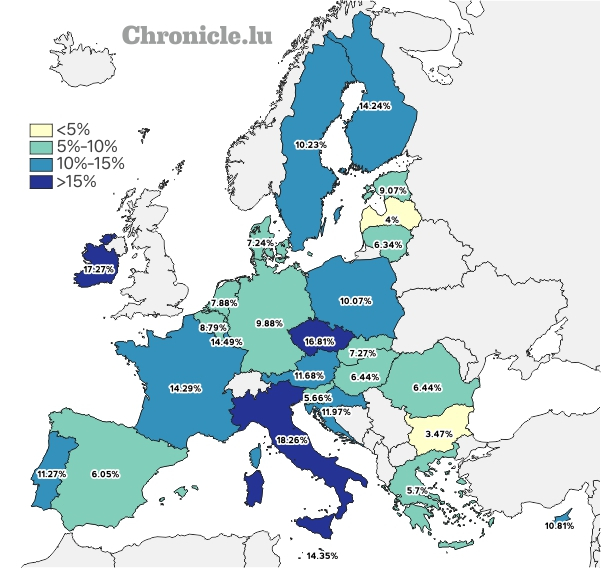 Vaccination rates in people under 25 years old out of total vaccinated people in the EU; Credit: KH
As of 12 November 2021, over 600 million COVID-19 vaccine doses have been administered in the European Union (EU), with 290 million people already having received a complete primary vaccination course and nearly nine million individuals having received an additional dose following the primary vaccination course.
The cumulative uptake of a full vaccination course reached 64.8% in the total EU population and the vaccination rates in the young population under the age of 25 is between 3.5% in Bulgaria and 18.3% in Italy out of the total number of vaccinated people in the EU member states. The EU average of fully vaccinated young individuals currently stands at 10% of the total number of fully vaccinated people (all age groups together). In Luxembourg, 14.4% of fully vaccinated individuals are younger than 25 years old.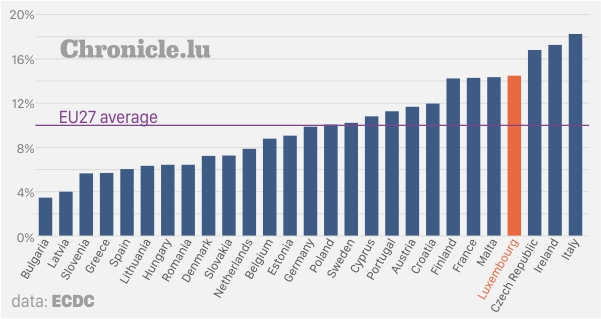 Countries are using various strategies to encourage vaccine acceptance, such as mobile and pop-up vaccination stations, targeted communication strategies and, for some countries, requested mandatory vaccination for healthcare workers.