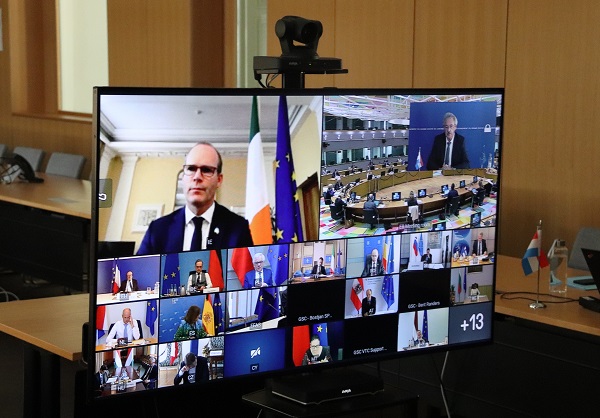 Minister Jean Asselborn attending remotely the EU Foreign Affairs Council; Credit: MAEE
On Friday 29 May 2020, Luxembourg's Minister of Foreign and European Affairs, Jean Asselborn, participated in the meeting of the European Union's Foreign Affairs Council, which was held by videoconference.
The Council began its session with topical questions, which enabled the Ministers for Foreign Affairs of the European Union to review recent international developments. The ministers notably discussed the situation in Afghanistan and the peace negotiations in that country, marked by the absence of a cease-fire and the resurgence of attacks by the Taliban.
In this context, Minister Asselborn welcomed the political agreement reached between President Ghani and Abdullah Abdullah on 17 May. "We must now help move the intra-Afghan peace negotiations forward while supporting international reconstruction efforts. The European Union, as the largest financial contributor to Afghanistan, should also play a more assertive political role in order to support the Afghan government in the democratic transition," said Minister Asselborn.
Subsequently, Minister Asselborn and his European counterparts had an in-depth discussion on relations between the European Union and China, in particular with a view to the next EU-China summits planned for 2020. Beyond questions linked to the Global crisis caused by the COVID-19 pandemic, the ministers discussed political and economic relations with China, as well as the Sino-European dialogue in multilateral forums.
In this perspective, the head of Luxembourg diplomacy stressed that "the fight against climate change, the promotion of renewable energy, multilateralism as well as respect for human rights must constitute key elements of our engagement with China". In a multilateral context marked by tensions, especially between the United States and China, Minister Asselborn recalled "it is essential that as a European Union we are united in the defense of our values ​​and interests".
In the case of Hong Kong, like his colleagues, Minister Asselborn expressed concern over the development of the situation following the adoption of the national security law. He welcomed the statement made on this subject by the High Representative of the Union for Foreign Affairs and Security Policy and Vice-President of the European Commission, Josep Borrell Fontelles, on behalf of the EU, stressing the European Union support for the "one country, two systems" principle.
Finally, the videoconference provided an opportunity for the ministers to exchange views on the socio-economic impact of the COVID-19 pandemic on countries throughout the Asia-Pacific region. In this context, Jean Asselborn welcomed the close cooperation between the EU Member States and the countries of this region during the joint fight against the COVID-19 pandemic. He spoke in favour of strengthening dialogue and partnership with the Asia-Pacific countries, including the ASEAN countries, politically and economically, also with a view to supporting multilateralism.