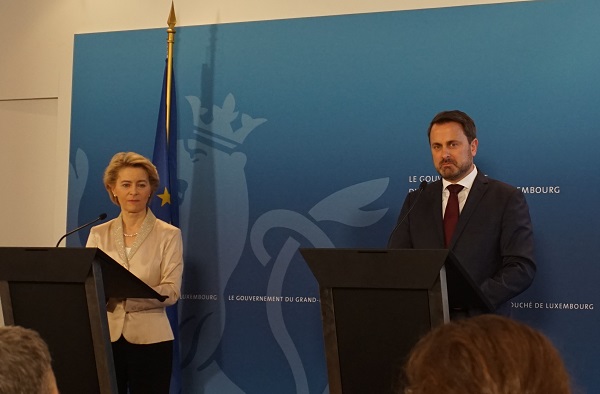 Credit: Above: Jazmin Campbell; Below: © Cour grand-ducale / Claude Piscitelli
Today, on Monday 13 January 2020, the President of the European Commission, Ursula von der Leyen, travelled to Luxembourg City as part of her tour of EU capitals.
During her visit, which forms part of the swearing-in of the new European Commission at the Court of Justice of the European Union in Luxembourg, Ursula von der Leyen was first received in audience by His Royal Highness the Grand Duke at the Grand Ducal Palace.
Ursula von der Leyen then met with Luxembourg's Prime Minister Xavier Bettel for a working meeting at the Ministry of State in Luxembourg-ville. Discussions focussed on the EU's strategic priorities, as well as current affairs in Europe.
During the joint press conference that followed, Prime Minister Xavier Bettel specified that their talks had touched on a wide range of topics, notably climate policy and the Multiannual Finance Framework (MFF). Concerning the latter, Xavier Bettel stated that "without an ambitious, modern and reformed European budget, the single market will be fragmented". He added that some of the current proposals from Member States were "unrealistic and unambitious".
Luxembourg's Prime Minister also highlighted the Grand Duchy's support for the new European Commission and its policies.
For her part, European Commission President Ursula von der Leyen described Luxembourg City as a microcosm of the EU, representing "a century-old history, a melting pot of nations and a very modern city". She went on to recognise the efforts being made by Luxembourg in the area of climate protection and its commitment to the European Green Deal. She particularly praised the decision to make public transport free across the country in the coming months, calling Luxembourg "a role model", whose example she hoped others would follow. Similarly, Ursula von der Leyen highlighted the role of Luxembourg's financial centre at the forefront of ecological finance.
Moreover, the new European Commission President summarised her talks with Xavier Bettel on the subject of Brexit. She recalled that "the United Kingdom and the British are our friends" but that it was now "up to Britain to decide how close or far they want to be to the world's largest single market". She added that the closer future relations would be, the more the UK would be involved in the single market, but that it remained the UK's decision.
On the topic of the MFF, Ursula von der Leyen spoke of the need to modernise various policies, such as agriculture, and expressed content with Luxembourg's position on this matter. She added that both Luxembourg and European people in general had high expectations of the EU, whose employees "are working very hard". She concluded by highlighting the need to invest in personnel within the EU institutions.