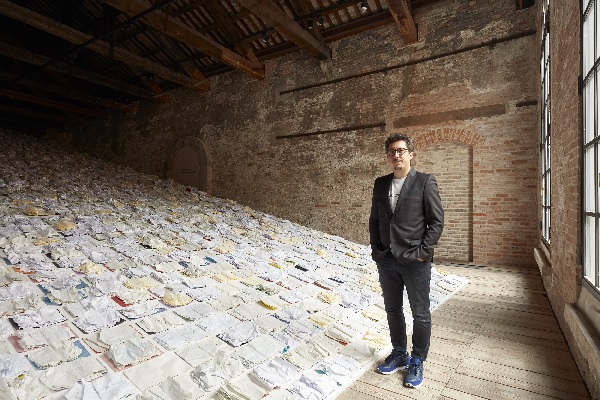 Marco Godinho with his exhibition "Written by Water" at the 58th Venice Biennale; Credit: Luke A. Walker
The Luxembourg pavilion at the 58th edition of the Venice Biennale has welcomed more than 120,000 visitors to date.
Since its official inauguration on 9 May 2019, the Luxembourg pavilion at the Venice Biennale International Art Exhibition has proven successful with the public. With its new location within the walls of the Arsenale, a major exhibition site that forms, next to the Giardini, the nerve centre of the Biennale, the Luxembourg pavilion has fully benefited from the flow of visitors.
Representing Luxembourg at this year's Biennale is "Written by Water", a monumental installation by Marco Godinho, a Luxembourgish artist of Portuguese origin. In his exhibition, Marco Godinho looks at the relationship of man with the sea,
The Venice Biennale will close this Sunday 24 November 2019.
In addition, Casino Luxembourg and Marco Godinho are organising a special tasting of "Oblivion Water" to close the Luso-Luxembourg artist's project at the Biennale; this will take place on Thursday 28 November 2019 at 19:00 at Casino Luxembourg.