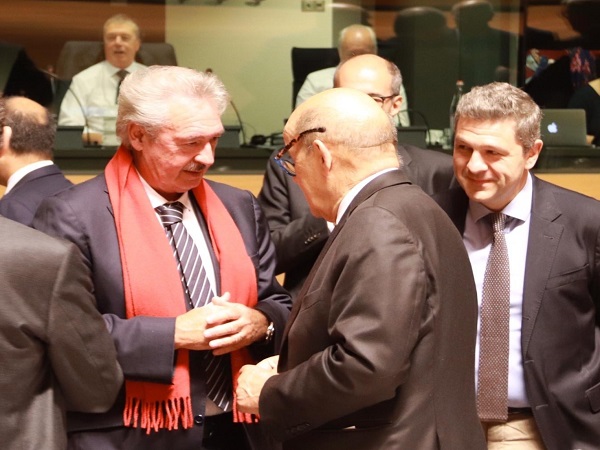 Luxembourgish and French Foreign Ministers Jean Asselborn and Jean-Yves Le Drian; Credit: MAEE
EU Foreign Ministers gathered in Luxembourg yesterday for the Foreign Affairs Council of the European Union.
The Council began its session with a news item from High Representative Federica Mogherini, following discussions held at the 74th session of the United Nations General Assembly concerning, inter alia, Iran, Libya and Venezuela.
The ministers then discussed the situation in Syria, in the presence of the Special Envoy of the UN Secretary General for Syria, Geir Pedersen. This was an opportunity to articulate the European position against the unilateral military action launched last Wednesday by Turkey in northeastern Syria.
Indeed, Luxembourg's Minister of Foreign and European Affairs, Jean Asselborn, has strongly condemned the Turkish military invasion in Syria, stressing that it also poses a threat to European security, especially since it has already allowed fighters from Daesh to escape from the camps where they were held until now by the Kurds of the Syrian Democratic Forces. Minister Asselborn has been particularly concerned about the plight of civilian populations in the region, as clashes in recent days have resulted in the deaths of many civilians. He stressed that "the Turkish operation aggravates the already dire humanitarian situation, forces even more people to move and risks jeopardising the results achieved in the fight against Daesh".
Minister Asselborn and other EU Foreign Ministers pledged to strengthen humanitarian engagement in Syria, together with the United Nations, and to suspend arms exports to Turkey. Indeed, at the end of their discussion, the ministers agreed to adopt Council conclusions condemning Turkey's military action and reflecting the willingness of EU member states to stop arms exports to Turkey.
The Council also referred to Turkey's illegal drilling activities in the Eastern Mediterranean, in the Cypriot exclusive economic zone. Minister Asselborn expressed his full solidarity with Cyprus. At the end of the debate between the ministers, the Council was able to agree on the establishment of a framework of restrictive measures targeting the persons and entities involved in illegal drilling activities, recalling its conclusions of 15 July 2019 about it.
The conclusions on northeastern Syria and Turkey's illegal drilling activities in the eastern Mediterranean were adopted simultaneously by the Council.
During their working lunch, the Foreign Ministers also had an exchange of views with their new Ukrainian counterpart, Vadym Prystaiko, on the situation in Ukraine, the implementation of the Minsk agreements and relations between the EU and Ukraine.