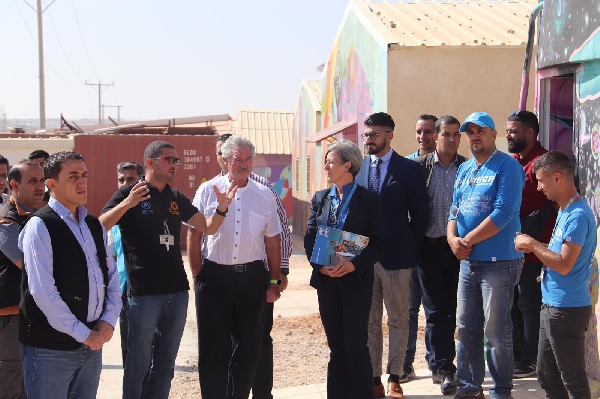 Minister Asselborn visits the Azraq refugee camp in Jordan; Credit: MAEE
During his visit to Jordan yesterday, Luxembourg's Minister of Foreign and European Affairs and Minister of Immigration and Asylum, Jean Asselborn, expressed solidarity with and praised the Jordanian authorities for their efforts to welcome Syrian refugees.
On the occasion of this official visit, on Thursday 12 September 2019, Minister Asselborn met with his Jordanian counterpart, Ayman Safadi, before paying a visit to the Syrian refugee camp in Azraq. Discussions with Minister Safadi provided an opportunity to examine current international political affairs, including the conflict in Syria and the means available to improve the situation on the ground.
The two foreign ministers also discussed the considerable impact of the Syrian crisis on neighbouring countries, namely the consequences of the massive influx of refugees fleeing the conflict that has lasted for more than eight years in Syria. In this context, Minister Asselborn assured the Jordanian authorities of Luxembourg's solidarity, its political support and its admiration for their continued efforts to welcome Syrian refugees.
Referring to his visit to Palestine the previous day, Jean Asselborn went on to discuss the Middle East peace process, in particular the statements made by Israeli Prime Minister Benjamin Netanyahu on the West Bank. Ministers Asselborn and Safadi unanimously agreed that the announcement is unacceptable and goes against international law and relevant UN resolutions.
In addition, the foreign ministers reviewed several bilateral issues. Jean Asselborn took the opportunity to identify with his counterpart ways to strengthen bilateral relations between Jordan and Luxembourg, particularly in economic terms. Closer cooperation is therefore envisaged in the area of ​​air services.
Earlier in the day, Minister Asselborn paid a visit to Azraq refugee camp for a first-hand look at the situation of Syrian refugees. The camp opened in late April 2014, in anticipation of continued flows of refugees crossing the Syrian border into Jordan. It has a capacity of 55,000 people.
During his visit, Jean Asselborn met with officials from the United Nations Refugee Agency (UNHCR). Their presentation highlighted the extremely difficult living conditions in Syria and confirmed the urgency of providing additional funds to help Syrian refugees.
In the camp, Luxembourg's Foreign Minister also visited a project supported by the Luxembourgish NGO CARE. The project is co-financed by the Luxembourg Cooperation which carries out educational and psychosocial activities through discussion forums and encourages the learning, participation and personal development of participants. In addition, it promotes adult conflict resolution skills through awareness of conscious mediation.
Finally, Minister Asselborn visited the shelter of a Syrian family from the Palmyra region. The family shared with him their appreciation of the living conditions in the camp and hopes for the future of their children.