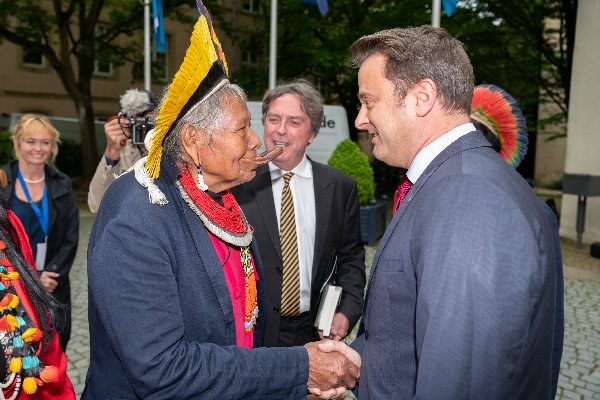 L-R: Raoni Metuktire, Chief of the Amazon Kayapo people; Xavier Bettel, Prime Minister, Minister of State; Credit: © SIP / Emmanuel Claude, all rights reserved
Prime Minister Xavier Bettel today met with the Brazilian Chief Raoni Metuktire of the Kayapo people and on this occasion, pledged Luxembourg's support in the form of €100,000 to protect the Amazon rainforest.
During his European tour, Chief Raoni has set out to warn about the deforestation of the Amazon and try to raise €1 million of funds for the protection of the Xingu reserve, home to several indigenous communities in Brazil. The lungs of the planet, the Amazon is increasingly facing growing threats of logging and agribusiness. Chief Raoni has thus emphasised how the financing of the fight against deforestation in the Amazon is a vital issue now more than ever for indigenous populations.
During their meeting, the Luxembourg Prime Minister and the Brazilian Chief focused on such issues. Xavier Bettel stated: "I wanted to speak with you because I have a lot of personal sympathy for your struggle to protect the territory of your people, as well as the Amazon rainforest."
Luxembourg, through its expertise in the field of sustainable and climate finance, is already actively supporting the fight against climate change, and is recognised as a reference centre in this field at the global level. Prior to the Paris Climate Conference in 2014, a financial contribution spread over the 2014-2020 period was reserved in this regard and in the future, the government will continue to support developing countries in the fight against climate change. At present, some 20% of these funds are dedicated to activities and projects specifically aimed at reducing emissions from deforestation and forest degradation in developing countries, as well as the conservation and sustainable management of forests.
In this regard the Minister of Finance, Pierre Gramegna, also present at this meeting, added that "about 15% of annual greenhouse gas emissions come from forest degradation. This is why Luxembourg, a European pioneer in sustainable finance, has put in place innovative financial tools that mobilise private capital to promote sustainable forest management, while generating returns for investors."
Regarding fundraising, Xavier Bettel announced the Luxembourg Government's proposed financial contribution of €100,000 to be made available through the Climate and Energy Fund managed by the Ministry of Environment, Climate and Sustainable Development. It will be used for the rehabilitation of the Rio Xingu Reserve.